Top Gun Slot Review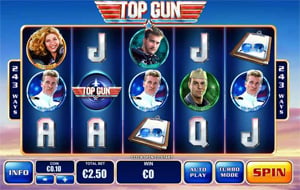 Play the Top Gun Slot at EuroGrand Casino
Playtech is taking its casino games offering to the next level with more regular launches and upping its game when it comes to licensing big name branded slots for use in their games offering. The group announced the release of the Top Gun Slot in 2015 and towards the end of the year rolled out the game at various Playtech powered online casinos.
From the previews prior to the launch we were very excited to see the final product which promised to boast an epic soundtrack, fantastic animated graphics and incredible all round action is sure to take your breath away.
Well, two out of three isn't bad.
The game itself is a 5 reel, 243 ways to win slot whose intro begins to the thrilling Berlin soundtrack "Take my breath away" followed by the hit "Danger Zone" as the F-14 Tomcat fighter jets that Maverick, Goose and Iceman flew in the movie fly out in formation around the game logo.
And that is about where the excitement ends. Especially when you discover that the main character "Maverick " played by Tom Cruise in the movie is missing from the game. Could it be that Mr Cruise doesn't allow his likeness to be used in anything unless he's paid additional hefty royalties in a personal capacity? We'll never know.
Once you get over the fact that this integral character is missing you'll find yourself singing along to the music (only the back track is featured in the actual game but you'll know the words if you're a fan of the film). A word of warning however - each spin is set to a few bars of Berlin's epic "Take my breath away" soundtrack, and we found ourselves spinning way faster than usual to ensure that the song's next bars ensured continuity. It's a little difficult to explain whether this behaviour can be attributed purely to our own OCD or if everyone will end up doing the same and if the latter is the case, then it's a cunning trick by the slot developers to get us to play faster and spend more! If like us you need to remind yourself to play slots smarter, follow these tips.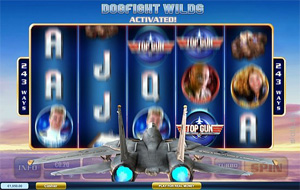 Top Gun Dogfight Wilds
Yet even when you speed up the game play you'll realise that the base game action is more than a little dull which is very disappointing given the fact that it had so much potential.
While the game is littered with small value wins of between 3x and 20x your wagers, truly big wins are few and far between but when they do come they activate clips from the motion picture which does invoke a certain feeling of nostalgia within you if you're a fan.
The Dogfight Wilds feature, which changes up the music to the Danger Zone track and features a fighter jet lining up with the reels to shoot the symbols turning them wild should have been epic does leave one feeling a little disappointed - it plays out so slowly you can't help but feel frustrated. It does however have the potential to turn up to 15 symbols wild to give you some great rewards, so you just have to be patient. Although we still feel it would have been WAY better if we could somehow control the shooting!
The game's main feature, Danger Zone Free Spins is decidedly more pleasing. It is activated when three jet symbols appear on reels 1, 3 and 5 simultaneously, activating 8 free spins wherein the F-14 will once again appear on the screen to award to you more Dog Fight Wilds to increase your chances of winning.
With a payout rate of 95.02% Top Gun is not the highest paying branded slot you'll find but if you're a fan you probably won't be able to resist giving it a spin even and if you decide to do so play it at EuroGrand Casino.