Online Roulette FAQ's

Roulette is an exhilarating online casino game that not only attracts the crowds at land based casinos but also vast numbers of players at both brick and mortar as well as online casinos, although playing at the latter is fast becoming more popular as playing online is way less intimidating than real life games. And if you feel like some live dealer roulette action, leading online casinos like Spin Palace offer state of the art, real time live dealer casino games that offer you the opportunity to play and interact as if you are playing at a real Las Vegas Casino.
In spite of being such a popular casino game, Roulette is also a game that attracts a number of questions and here we've put together some of the most Frequently Asked Questions (FAQ's) regarding the game of Roulette.
Q. Can I trust Roulette games at online casinos?
A. Playing Roulette at reputable, licensed online casinos is as safe as playing at a land based ones. The game results are governed by Random Number Generators (RNG's), results are audited by independent auditors and governing bodies like eCogra with payout percentages being published for players to view. So you are able to trust a casino if they meet the criteria of being reputable and licensed.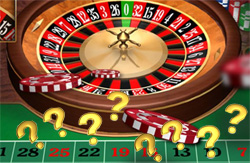 Q. Do I have to download casino software to play online roulette?
A. No, you don't have to download casino software to play roulette online. Many online casinos offer no download version which can be played directly from your internet browser.
Q. Is Roulette really a game of luck or can you strategically alter the odds?
A. Roulette is primarily a game of luck, you can improve your chances of winning by following a few winning roulette tips – like playing European Roulette instead of American Roulette as it has a house edge of 2.70% as opposed to 5.25%. There is not however any system or legitimate strategy that can consistently alter the odds in your favour.
Q. Which is the best bet in Roulette?
A. The best bet in Roulette is the one that offers you the best chance of earning returns. Even money or outside bets which are the Red or Black, Odd or Even, High or Low, Columns or Dozens wagers, offer lower payouts but better odds so you are more likely to earn money on these over time.
Q. What is the worst bet in Roulette?
A. If we're looking at probability, betting on any single number and in terms of house edge the first five numbers are the worst, with an edge of 7.9% on the American Roulette wheel.
Q. Why is Roulette sometimes called the devil's game?
A. While not commonly known or called this, Roulette is referred to by some as the "devil's game" because some bright spark once added up all of the numbers between 1 and 36 that are featured on the table and realised that they amounted to the number 666. In reality though, it has nothing to do with the devil.
Q. Is it true that dealers can influence where the ball stops?
A. The answer is no. Even the most experienced Roulette dealers will not be able to throw the ball or do anything that will make it stop in the slot that they want it to. Research has even shown that they cannot duplicate the same velocity with every spin so there is no point trying to read too much into this. When playing online the mechanics of the game are governed by the RNG which is completely random and therefore totally unpredictable too.
Q. There are so many roulette systems discussed online, which one is the best?
A. The short answer is none. While some people sing the praises of a particular roulette system over another, they all have their shortcomings and none of these can consistently guarantee a profit, after all the house edge in roulette is always in play and there is nothing you can do to eliminate it completely no matter what a so called expert promises you.