Online Slots FAQ's
We regularly receive questions regarding online slots from casino players across the world and as such, we have decided to include an Online Slots Frequently Asked Questions (FAQ's) section so that we can combine all of the questions and answers to these into one resource that is readily available to our visitors.
So if you are new to the game of slots or simply have an unanswered question about the most popular online casino game, then you've come to the right place.
Q. Do Slots have some form of intelligence that can make me win or lose?
Learn the answer to this common slots question here
Q. What are the odds of hitting a slots jackpot?
Q. How do I play an online slot?
If you are new to online casinos and slots, in order to play an online slot machine for real money you will need to sign up at a reputable casino like Golden Tiger. Once you have registered a player account and made a deposit at the casino you will be able to choose a slot machine from a long list of what they have available. If you're not sure which slot to play, check out our slots reviews and see what appeals to you and also get a basic understanding of how each game works. All in all slots are pretty easy to play and you'll become more comfortable as you do so.
Q. Are the outcomes of online slots really random?
A. The answer to this is yes. Online slots are governed by a Random Number Generator (RNG) which produces results according to random mathematical algorithms. Licensed and regulated online casinos are subject to auditing of their payout rates and software outcomes and this means that if you are playing at a reputable online casino like Spin Palace you are assured of fair and random outcomes when playing slots.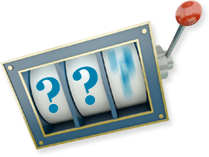 Q. What is the difference between download and flash based slots?
A. In essence there is no real difference between download and flash based online slots other than the way in which they are accessed. Download versions require you to download the casino software to your computer and as new games are added to the casino games portfolio they will be automatically downloaded so that you can access them. Flash based online slots are played directly on the casino's site in your browser.
Q. What is the best online slots strategy?
A. As with most casino games, people want to know what is the best online slots strategy that they can use to win. While winning on online slots machines is largely based on luck, there are a few winning slots tips that you can use to maximise payouts, click here for more.
Q. What is a slot bonus feature?
A. Many popular online video slots offer one or more bonus features. These bonus rounds take you from the main slots reels to a second screen wherein you are usually required to find certain items that are hidden in a Pick X of Y format. All you have to do is click on the item that you believe has the best prize hiding behind it, if you pick correctly you will be rewarded with bonus credits or free spins.
Q. Should I use the Gamble feature?
A. The Gamble feature is a 50/50 bet that you will sometimes win and sometimes lose. Whether you opt to play this feature or not is up to you. Generally it is not recommended that you use it on large wins as you could easily lose it all back by doing so.
Q. Which slots have the best odds?
A. Generally non-progressive slots that have the lowest payout rates have the best odds and those with bigger jackpots have a higher house edge. This makes sense as big jackpots need to be paid somehow and as such they have a higher house advantage. Higher denomination machines also have better odds but playing these is only advisable if you can afford to do so.
Q. Which online slot offers the highest jackpots?
A. There are number of progressive jackpot slots online that offer very generous payouts, but the most famous and highest paying online slot is probably Mega Moolah. This slot has made more millionaires than any other slot machine in the Microgaming portfolio.
Q. How do I find the payout percentage of an online slot
A. Some slot machine will show the payout percentage on the paytable while others will have this information hidden in their "help" pages. Others will not show them at all but if you really need to know this you can contact a casino's customer support who should be able to provide you with this information.
Q. Is there a good system for beating online slots?
A. No. No matter what anyone promises you, slots are governed by RNG's and there are no magical systems that will help you to beat the slot and win every time you play. Never pay someone for a slots system as these simply do not exist.