New Generation Slots Require New Betting Strategies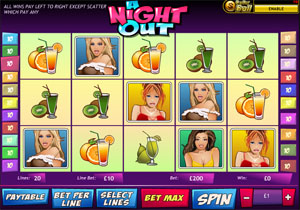 Play traditional and new generation slots at
William Hill Casino Club
For decades slots strategy has been formulated based on conventional wisdom but a lot has changed since the early slots machines and what most players don't realise is that new generation slots require a new approach to slots strategy that is often contradictory to everything we've learned before.
Here we take a look at traditional slots strategies versus new generation ones and how you should adjust your game play accordingly in order to get the most out of your slots experience and maximize your potential returns.
Max Bets
Old strategy advice: In order to achieve maximum payout percentages, always bet the maximum number of coins.
New Strategy advice: Examine the paytable as many video slots are pure multipliers and pay the same percentage in spite of the number of coins wagered.
Explanation: When it comes to traditional three reel slots, the highest payout percentage is achieved when betting the max due to the fact that there is a jump in the top jackpot when the last coin is bet. Lining up three jackpot symbols on popular three results therefor will reward you with, for example 800 coins if you bet a single coin, 1600 coins if you bet 2 coins but a considerable 2500 if you bet the max at three coins.
The majority of modern video slots on the other hand don't feature the same disproportionate jump to the highest level jackpot but instead payout at the same rate regardless of the number of coins you bet per line. This is why it is important to always check a slots paytable before playing as you'll be able to ascertain just how it pays out. If all payouts are proportional to the coins wagered, then all you'll need is single coin per line bets in order to stand the chance to win what the machine has to offer.
Playing Progressives

Old strategy advice: If you don't want to bet the maximum number of coins, don't play Progressive slots
New strategy advice: If you play progressive slots, wager enough to be eligible for the jackpots
Explanation: As previously discussed, three reel slot machines work on a disproportionate leap in payouts, and the progressive variations of these slots take this jump to the extreme. If you opt to wager fewer coins you'll end up with a fixed payout for three jackpot symbols, but if you bet the max you'll get a progressive jackpot pool that is ever increasing as it adds a portion of all bets to the pot until someone wins. This means that it puts a larger percentage of the overall payout into the top jackpot pool than non-progressives do.
While this is the same on video slots, including multi-tiered progressives, the returns will be lower if you don't bet enough to be eligible for the jackpot prize. However, it generally does not require that you bet the maximum coins to be eligible for this prize. While the exact requirement differ from one machine to another, with some slots requiring and additional bet to be eligible for the jackpot, generally if you make the jackpot bet, the rest of your bet size will not be relevant. It is however very important to examine the game details and paytables ‐ after all, if you're going to spend money playing the progressives, then you want to be eligible for any jackpots that are up for grabs.
Payout Tables
Old strategy advice: Read the paytable before you play
New Strategy advice: Read the paytable and help menu before you play
Explanation: Clever slots players have always examined the machine's paytable before playing in order to ascertain which symbols needed to be unlocked with higher wagers and how many paylines would be activated with each coin wagered.
Even with modern slots, this is a good strategy but there are also a number of additional considerations that need to be taken into account with the increasing number of game features on offer within modern slots. One therefore needs to ascertain which symbols trigger the bonus rounds and scatter pays and whether or not they have to appear on an active payline to be accessed as well as if an additional wager is required to be eligible for these features.
All of the information you'll need is listed within the game's help menu. So it is advisable to always read through this before you play in order to avoid costly surprises and errors.
As we can see from the above, as slots continue to evolve, we will need to adapt our slots game play and bankroll management strategies accordingly.