Slots Bankroll Management and Money Saving Tips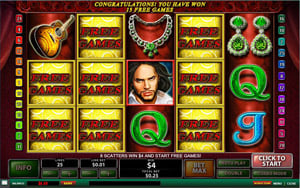 Jackpot seekers, play the Esmeralda Jackpot Slot
All slots players play these machines in the hope of winning big. While these games are highly entertaining they are luck rather than skill based and as such, we have no control over their outcomes or our winning potential because all of this is governed by Random Number Generators (RNG's).
However, this doesn't mean that there aren't a few things we can control to our benefit when playing slots. We can select machines with the highest possible payout rates and manage our bankrolls effectively in order to maximise our game play enjoyment and possible returns. While effective bankroll management is more important to some players than others, it can influence the way you play and the returns you earn when playing at online casinos.
Here we discuss slots bankroll management and cover a few money saving tips when you play.
What is your aim when playing?
There are generally two main groups of casinos players, those who play to win jackpots and are focussed on these, and others who are more concerned with overall entertainment and see winning as a pleasant "cherry on the top" type of bonus.
Your Slots bankroll management strategy will generally depend which category of players you fall into. For example, players who are focussed on winning jackpots will usually opt to play high variance slot machines that require bets of $1 or more per spin to qualify for top payouts. Obviously when playing these machines your budget doesn't go very far so you may enjoy less game play time but at least have the opportunity to win life changing sums.
As a practical illustration, when chasing jackpots you may bet $1 per spin on a progressive slot with a 95% payout rate and a $1,000,000 jackpot prize. If you play 480 spins per hour you would theoretically lose $24 per hour that you play ($1 x 480 spins x 0.05 house advantage).
If however, you are playing with the aim of just enjoying yourself then you'll want to extend your bankroll as far as possible so that you can play for longer. In order to do this you will need to opt for games with lower coin denominations like quarter, nickel or penny slots. While the jackpot offering on these games is definitely not comparable to that of progressives these machines often have a higher hit frequency so you can still end up winning smaller amounts more often. This is a great way of extending your game play and managing your casino bankroll effectively.
As an illustration, you may bet $0.05 on a slot with a 90% payout rate and a $10,000 jackpot. If you play 480 spins per hour, you would theoretically lose $2.40 per hour ($0.05 x 480 spins X 0.10 house edge).
As you can see from the above examples, the way you play will definitely depend on your aims when visiting a casino, so there is really no right or wrong way of playing, it's all about personal preference.
Tips for extending your bankroll
If you are a player who wants to conserve your bankroll and extend your game play time, here are a few tips to help you do just that:
Play true Penny slots: These machines cost a penny per spin but don't mistakenly play those that are advertised as penny slots but require you to play every payline as these get expensive fast!
Choose games with the highest payout rates: Payout percentages generally drop as the coin denomination lowers but you will still find variances in payout rates on games in the same categories. Always select machines that offer you the best payout rates to maximize your returns and extend your game play.
Calculate your Theoretical Losses prior to playing: Work out your theoretical losses using the calculation in our examples above ‐ this will help you to determine what coin size you want to play for the amount of game play you are looking for.
Set a Loss Limit: this is the amount that you are willing to lose before you stop. This will help you to not deplete your entire bankroll. Most people set this mark between 5 and 20% of their full bankroll total.