Everything you need to know about playing Slots at McCarran airport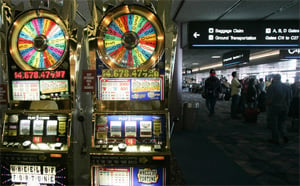 Las Vegas is the entertainment capital of the world, with enticing options for visitors of all ages, but the reason that this city even exists is because of gambling, which is the largest revenue producer for every resort in the city. In fact, the entire city is so obsessed with gambling that even as you walk into McCarran airport you are greeted with the sound of slot machines which are located throughout the airport!
Most first time visitors are happily surprised at this ‐ after all who has ever seen an airport like that? And nothing says "Welcome to Las Vegas" quite like the happy tinkling of slots! It definitely puts you in the party mood from the minute you step off the plane!
While most visitors are usually in too much of a hurry to get to their resorts upon arrival to bother to play the slots at the airport, the trip on the way home is usually an entirely different story ‐ especially if you managed to leave Las Vegas with a little extra in your pocket to spare. After all, where you'd usually have to find a way to occupy yourself while waiting for a flight by reading, grabbing a meal or shopping, at McCarran airport you check in and continue to enjoy playing slots right up until the very last minute! An added bonus for smokers is that you can play a few dollars and enjoy a cigarette while you do so!
But is it all quite the good idea that it seems? Here we look at some of the top frequently asked questions about gambling at McCarran airport, so that you can make well informed decisions next time you visit Las Vegas.
Q. Where are the slot machines at McCarran Airport located?
A. There are over 1300 slot machines distributed across the airport, you'll find them in the baggage claim and retail areas as well as at terminal gates and even the car rental kiosk ‐ you really can't miss them.

Q. Do these airport slots ever payout well?
A. The answer is yes. According to the Acting Manager of Public Affairs and Marketing, Chris Jones, a number of players regularly win 6 figure totals and one lucky traveller has even won $3.9 million on the progressive Wheel of Fortune slot. If you do a little research on the subject you'll find that many happy travellers end up taking home varying amounts from these slots.
Q. Are the slot machines looser at McCarran airport?
A. The answer is no. In the past, casino veterans would caution against playing slots at the airport as the payout rates were lower than average. Over the years however, the slot machines on the strip have tightened up and so there really isn't much difference between the two. That said though, the slots at McCarran are neither looser nor tighter than anywhere else in the city.
Q. How are winnings and cashouts paid?
A. The airport slots are TITO machines (ticket in, ticket out), which means that when you cashout you receive a ticket. Unfortunately the airport does not offer bill breaker machines so you need to find a uniformed attendant in order to exchange your ticket for cash. This is usually quite simply as they are usually situated near the slots areas. The only time you may have an issue finding an attendant is if you're playing in a smoking area ‐ they are genereally outside of the smokey hall peering through the windows!
Q. Do payments take a long time?
A. This depends on the size of the payment you need to receive. If it's a few hundred dollars the attendants generally have the money on hand. If you win a bigger amount you may have to wait for the cash to be sourced and this could mean you would miss your flight if you only have an hour to spare ‐ depending on the amount that you win, this may not be such a bad thing though.
Q. If I win over $1200 do I still need to fill in IRS forms like at the casinos?
A. Yes. The IRS does not differentiate between wins at casinos and the airports and whether you're a U.S citizen or foreigner if you are subject to pay taxes on winnings you will have to do so.