Taxation on Las Vegas Casino Winnings for Foreigners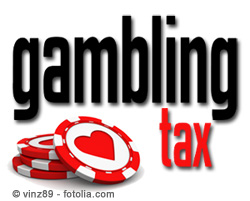 In many countries like the United Kingdom and Germany gambling wins are not taxed by the government because these earnings are seen to happen "by chance" and are not part of a salary unless you declare yourself to be a professional gambler.
This however is not the case in the United States, and all gambling wins are taxed at the highest possible rate by the Federal government, and being a non-US citizen does not mean that you are totally exempt from jumping through a few of the IRS tax hoops.
Here we take a look at what the tax implications for foreign and European citizens are for all casino winnings when visiting Las Vegas and other US casinos.
Taxation on Table Games Winnings
You may have heard that winnings on table games in Las Vegas are exempt from taxes. This is not exactly correct as all gambling winnings are subject to taxation, the difference however is that table games like Blackjack, Roulette, Baccarat, Pai Gow and Craps work on the honour system where it is up to the player rather than the casino to report any wins.
While no official reason for this has ever been given, it is probably due to the fact that in general the IRS doesn't believe that table games players can generate enough of an advantage multiplier wise to trigger substantial taxable winnings. That said though, casinos are still subject to regulations that require them to report any single win on 300 for 1 or more odds, or an amount over $600 ‐ but this would mean playing much higher stakes games than most people usually do.
Taxation on Slots and Video Poker Wins
Video Poker, Keno and Slots present a whole different ball game when it comes to taxation due to the fact that players can win up to 1000 times or more than their initial bet thanks to multipliers and progressive jackpots on offer in these games.
For this reason any single win exceeding $1200 on one of these machines will automatically trigger a hand pay which requires a casino employee to visit and unlock the machine. This will cause the generation of a W2-G form (if you are a US citizen) and for amounts over $10,000 the casino will be required to file a Cash Transaction Report (CTR) with the IRS.
Exemption for Europeans and other Non-US citizens
Generally if a foreign citizen wins a jackpot, 30% of it will be withheld and paid to the IRS. However the US does have treaties with some foreign countries whereby gambling income is not taxable by the United States Government. These countries include Austria, Belgium, Bulgaria, Czech Republic, Denmark, Finland, France, Germany, Hungary, Iceland, Ireland, Italy, Japan, Latvia, Lithuania, Luxembourg, Netherlands, Russia, Slovak Republic, Slovenia, South Africa, Spain, Sweden, Tunisia, Turkey, Ukraine, and the United Kingdom.
In the event of a large win, in order to receive a hand pay from the casino that is tax free and not subject to a withholding fee, citizens of these countries will be required to obtain an ITIN-Number. In general the more reputable Las Vegas casinos will acquire this number on your behalf once you have filled in a few forms. Once you have this number you will be able to walk into any casino with your passport, play and if you win claim your tax free payouts.
Some of the countries mentioned above will however require that taxation on winnings be paid directly to their own governments' tax authorities when you return home, while others do not as gambling winnings are exempt from taxes.
In places like Switzerland, canton Zurich collects 35% of their citizens winnings should they be made aware of this income (which is more than the US's 30% withholding tax) so Swiss travellers should always keep their wins private if they do not want to be liable for the taxes.
While most of us never think about taxes at all when enjoying gambling in Las Vegas it is definitely worth being aware of the tax processes and implications involved should you be fortunate enough to experience a large win. Happy Gambling!