What happens if you get sick or have a medical emergency in Las Vegas?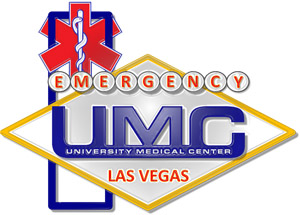 No one ever plans on falling ill while travelling and especially in party cities like Las Vegas, where you hope that the only time you may possibly feel sick at all is due to over indulgence (if you're that way inclined that is).
In fact, mornings after the night before are probably one of the main reasons for the huge numbers of CVS and Walgreens drug stores that you'll find littered all along the strip. It's rather an amazing sight to see and one can almost bet that if a site becomes vacant in the general Las Vegas strip and surrounding areas, a drug store opening will soon follow.
Nevertheless, if you're wondering what happens if you fall ill in Sin City and not the kind of ill where you can purchase an over-the-counter remedy or seek medical attention on your own, but rather the type of ill where you can't physically leave the room unassisted, we've got the answers for you here...
This type of thing recently happened to a friend of ours while visiting Las Vegas and knowing that our team travels to the city quite regularly her travel companions contacted us to ask for advice. Our first recommendation was to contact the casino host which we did on her behalf, and this is always something you should do if you find yourself in the same unfortunate situation.
Casino hosts are generally Las Vegas natives or at have at least lived in the city for a number of years, they know a lot of people in the city as well as the best doctors and where to send you should you need medical attention, and can help you to work out all of the logistics of getting help should you need it.
In our friend's case the host immediately sent a security team up to the room, this may seem a little odd but it turns out that all casino security staff have First Aid training and are able to examine the patient and assess the situation, making a call on whether or not further treatment is needed and if so, which route to go.
In fact, the security staff are all trained to use the on-site defibrillators and administer lifesaving first aid until emergency help arrives, and some casinos even have permanent EMT staff on hand, making Las Vegas statistically one of the safest places in the world to suffer a heart attack or life-threatening event.
If you are in a stable condition a doctor may be called to the hotel to attend to you if necessary, but this can often turn out to be a rather expensive solution, otherwise it may be necessary to be transported to the nearby Harmon Medical Center or in an extreme emergency to the Sunrise Hospital and Medical Center in which case paramedics and an ambulance will be called.
In our friend's case, she was diagnosed with lumbago and transported to the University Medical Centre for a course of treatment and injections which relieved her symptoms enough to enable her to travel home. The bill came to around $900 and was covered by her travel insurance...something you should always have no matter where in the world you visit! So while her trip ended on a rather bad note, she's positive about the level of care she received and looks forward to returning to the city soon.