Random Progressive Jackpot Slots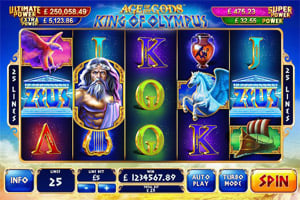 Age of the Gods: King of Olympus
is one
of Playtech's Random Jackpot Slots
When you talk about "living the dream" with slots players, it's always about winning that one big life-changing jackpot. The problem is that in pursuing this dream, one has to play progressive jackpot slots. While they are thrilling, to be eligible for the top level jackpots one usually has to bet the maximum or place a side bet of some kind on each spin, both of which eat into your casino bankroll quite rapidly.
In the past this meant that if you're on a conservative budget you either play a few short spins and walk away, or you simply had to settle for machines with lower paying jackpots. Nowadays however, online and mobile casinos offer players the opportunity to win generous payouts on Random Progressive Jackpot Slots.
These games do not require you to place a maximum bet in order to be eligible for the jackpot win. Instead, you simply make a bet of any size and the wins are randomly awarded without the need for triggering special combinations or bonus rounds to win. This means that every time you play a real money spin on the game no matter how much or how little you wager, you'll be in line to win the jackpot and that is what makes these slot machines a tremendously exciting prospect for players.
If you find yourself wonder just how random these random jackpot slots really are, you'll find that they are completely fair and random if you stick to playing at Microgaming, Playtech or NetEnt powered mobile and online casinos.
Types of Random Jackpot Slots
There are a number of random jackpot slots online and there are a few different way in which they award their associated jackpots. Generally these slots will payout randomly after any given spin in the base game.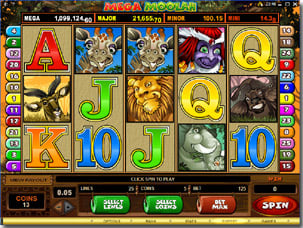 Play the randomly awarded
Mega Moolah jackpot slot
Another way a slot may awards its random jackpot or one of its multiple jackpots (yes, some slots have jackpot tiers) is through a bonus game of some sort. This type of jackpot structure can be seen in Microgaming's famous millionaire maker, Mega Moolah, where the bonus game is triggered at random after a paid base game spin. Once the bonus game is triggered you will spin the bonus wheel to find out which of the four networked progressives you'll win.
The only time a random jackpot slot won't award you its progressive is during any kind of free spins bonus game, as only paid spins give you eligibility for the jackpot.
Increasing the chance of winning random jackpots
While you can win at any time when betting any amount on random jackpot slots, there are a few ways to increase your chances of winning. While not essential, playing higher stakes and maximum bets on your spins do give you a better chance.
For all intents and purposes, these slot machines function like a raffle, the more tickets you have in the draw, the greater your chance of winning the prize. SO while some players who have wagered a mere 0.01 per spin have ended up winners, the majority of winners do play for higher stakes.
While randomly awarded jackpot slots are often more appealing to players on a budget, it is still important to remember that even though you have a shot at winning the jackpots, these types of games do not typically offer the best returns over the long run.
So if you're going to play them, set yourself a maximum spend limit and regard these slots as fun with the potential to win big, rather than playing solely for the purpose of winning as wins are not ever guaranteed.