Should you bet one coin or the maximum coins in slots?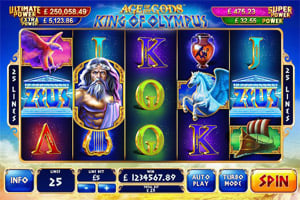 Play the Age of the Gods: King of Olympus slot now!
This is a question that comes up amongst slots players time and time again and it's not difficult to see why. For decades, casinos and gambling experts have agreed and touted the fact that in order to earn the highest possible payout rates when playing slots, players should be betting the max coins.
In recent years however, this point and way of thinking has been challenged thanks to the advent of video slots. The aim now is to cover all of the paylines and many of the new video slots don't give players the option of playing fewer lines. This means you'll find 40 line slots where you're able to play 40 cents, 80 cents, $/£/€1.20, $/£/€1.60 and $/£/€2 with no option of playing one line per spin. Yet, some players still wonder if they should still be betting the max.
In the majority of games, the answer is no, when it comes to betting a single coin or the max on video slots, there's not much difference. Here's why...
When it comes to video slots, betting larger sums will not increase the number of winning combinations you encounter, this is because the Random Number Generator (RNG) works in the same way regardless of the number of coins wagered, and the proportion of winning combinations remains constant regardless of the size of your wager.
This differs from older slots with three mechanical reels that required players to bet the max in order to attain the higher jackpots. For example, in these games a single coin wager might earn you a 1,000 coin jackpot, and a two coin wager would double this to 2,000 but if you bet the max at three coins, this would payout at a massive 5,000 coins - so it was well worth betting the max here.
The majority of Video Slots don't work like this and if you examine their paytables you'll find that the payouts are proportionate throughout. If the jackpot is 1,000 coins for a single coin wager, it will be 2,000 for two coins and 3,000 for 3 coins and so forth. There is no massive disproportionate jump, so your average return per coin remains constant regardless of the size of your wager, as does the payout percentage.
That said, this doesn't mean that there are no incentives to place larger wagers when playing video slots, especially on certain types like progressive jackpot slots. In these games you have to ensure that you are eligible for the progressive jackpot prize, and this can mean needing to place an additional wager. The base game will offer a set payout percentage regardless of the number of coins that you play, but you often won't be eligible for the grand prize if you don't place the additional wager.
Of course, not all progressive slots work in this way, some offer eligibility for the jackpot on any bet, even the minimum, but this only occurs in the mystery jackpot format, where the winner is the player wins a randomly generated jackpot amount. That said though, even in these formats, players will earn extra chances of winning when placing higher bets.
Besides progressive and mystery jackpot slots, video slots don't generally require you to play the max to earn the max, which is great if you're on a tight bankroll.