Side Bets in Online Roulette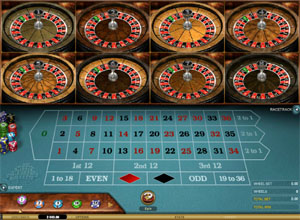 Play Multi Wheel Roulette at Luxury Casino
Playing the exciting game of Roulette at brick and mortar casinos never gets old ‐ there is something just so exhilarating and glamorous about the long tables and the crowds that they attract, the anticipation is almost tangible and it just adds to the atmosphere with every spin.
Online Roulette however doesn't have the same social factor and interaction (unless you play a live dealer roulette game) and as such can feel a little dull after playing for an extended period. For this reason, online casinos have added side bets to some roulette variants.
The most popular form of online roulette with a side betting option is the Roulette Royale game at Microgaming powered online casinos. The side bet is on a progressive jackpot game but smaller payouts are also awarded along the way. In order to stand in line to win the progressive prize you are required to place a compulsory side bet of $1 with every spin you play on the Roulette wheel. If any number comes up twice in a row, then the payout is $15, if a number is called three times, payouts of $200 are payable, if any number comes up four times in a row, a payout of $3,000 is made and any number appearing five times in a row wins the progressive jackpot in addition to all previous payouts.
This effectively means that you will bet $5 in order to stand in line to win the progressive jackpot ‐ which isn't bad considering that some progressive slots require you to bet the max on a number of paylines, often equating to 5 times that value per spin.
These side bets not only make the game more interesting but they also give you the opportunity to win more than you ever would on the standard betting options should you happen to get lucky. That said though, one does need to exercise caution when choosing to play any side bets in casino games as these wagers generally tend to payout at much lower percentages over the long term than those in other games so they are never a good option to play on an on-going basis, but should rather be played from time to time as a break from your usual game play routine.
The main issue with the side bet in the Roulette Royale game is that it is compulsory, so you cannot just play the standard roulette game without playing the side bet too. This can really make a dent in your budget quite quickly and lead to a much shorter game play time as a result. So if you're looking for a change or pace or are just feeling lucky, then Roulette Royal may be a good choice ‐ but it's not a game you should be playing every time you visit your favourite online casino if you're looking for consistent returns.