Choosing the Best Multi-Denomination Progressive Slots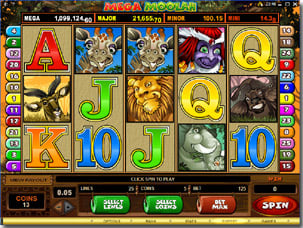 Play the multi-denominational Mega Moolah Slot
If you're a seasoned online slots player you may have noticed that some of the older games at online casinos are designed differently to the newer releases in that they have a fixed coin playing structure instead of a variable one like the new generation games. This means that these slots are only an option if you are willing to play with betting values of at least 1.00.
These older progressive slots however are usually also designed in such a way that players are required to play the maximum number of coins on a single payline or that every payline needs to be active in order to have a shot at winning the jackpot.
So if you're playing Microgaming's Cash Splash progressive, you will essentially be required to play at least 3.00 per spin in order to be eligible for the jackpot prize.
The secret to winning at progressives is to bet at the required stakes for as long as possible ‐ but if the levels are too high for you to sustain on your casino bankroll, this may mean that your sessions will be way too short to stand a chance. This is something you really need to keep in mind if you're serious about your slots play, and also a reason why you should rather try to stick to multi-denominational progressive slots if you are on a limited budget. Here we'll take a look at these machines and how to select the best ones the next time you play.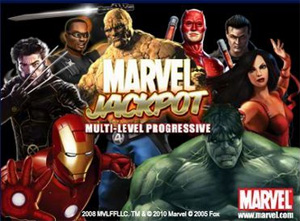 Playtech's Marvel Jackpot Slots are a great choice
Play now!
Multi-Denomination Slots
One of the most attractive things about multi-denomination slots at online or mobile casinos is that you're always in control of the betting stakes that you play with in the base games that you choose to play.
Here we'll take a look at the multi-denomination progressives that always give players the opportunity to win the jackpot no matter what stake levels they choose to play, this means that even if you're usually a penny slots player, you'll have the opportunity to win a life-changing sum.
Multi-Stake Progressive Slots
If you enjoy Playtech powered casinos, you'll find that their Marvel Jackpot slots are great options as they are not only multi-denominational but also have four jackpots attached to them. This means that you can play these games for as little as one cent per spin and still have the opportunity to win a progressive jackpot in the base game when a pick and match base bonus game is triggered.
However, if you're more of a Microgaming software fan, then stick to the Mega Moolah series of progressive slots as these games also allow you to play at any betting level and earn the chance of being awarded a spin on the wheel in the bonus feature. When triggered, you will spin the wheel to reveal which of the game's four progressive jackpots will be awarded to you ‐ but again, this is a guaranteed win.
So if you're on a budget but still want to experience the thrill of progressive slots, stick to the games mentioned above and we're sure you'll get way more out of your slots play than ever before.