Mobile Casino Device Support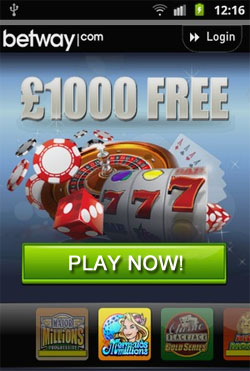 Top Tip:
Play at Betway Mobile Casino
Where online casinos were the buzz of the last decade, Mobile Casinos are now emerging as this decades fastest growing gaming platform. While industry analysts have predicted the boom of mobile casinos for a number of years now, it has only been in the last few years that mobile technology has developed to a level where players see the value in playing games for money on their phones or tablet devices.
Probably one of the most significant vectors in propagating mobile casinos has been the launch of the Apple iPad at the beginning of 2010, hereafter the market became flooded with competitor brands of tablets. Since then the rapid improvement in smart phone and tablet technology has enabled players to access mobile casinos which offer an increasingly life-like gaming experience from the palm of their hands.
Mobile casinos offer a similar gaming experience to online casinos, with the added benefit of being even more portable because you can literally play from anywhere in the world on a handheld device.
One of the common questions for those starting out at mobile casinos is generally "will my mobile device be supported?" by a certain casino. While device support may differ from one mobile casino to anoter in general the following applies:
Mobile Casino Support on traditional cellular phones
Most mobile casinos offer device support for the majority of cellphones ‐ even on the most basic Nokia and Samsung phones are sufficient to allow you to deposit and play at the casinos.
The main difference between traditional cellphones and their smartphone counterparts is the quality of the game play, which due to the restrictions of older screen's graphics capabilities, are not of the same quality. Another difference is that instead of touch based technology to play the games, you'll be required to use the phones trackpad in order to move the cursor and click on your options instead of just tapping them with your fingers.
Also due to memory capabilities, you may also be required to download each game individually rather than having access to the entire suite from the start. That said though, you can still enjoy a mobile slot or card game and win real money.
Smart phone and tablet device support
The majority of smart phones and tablet devices are supported by mobile casinos. As a user it's important to understand that with every operating system the experience will differ slightly. So if you're playing on a Blackberry it will be more similar to playing on a traditional cell phone than if you play on an iOS powered iPhone or iPad.
With other Apple and Android smart devices you will generally find that the gaming experience is similar to online casinos in look and feel and there is no need to download each game individually, you simply open the casino and all games are detailed in the games lobby. The only difference here is the number of games that are on offer in comparison to an online casinos but this is rapidly changing as software developers work hard to catch up, releasing a number of mobile games on a regular basis.
Functionality on smart phones has been adapted to touch technology so you can happily tap away on your screen to make your selections.
If you're looking for details on the exact systems supported by mobile casinos, these are the devices that the majority of online casinos support:
iOs devices and operating systems:
All Apple iPhone's from 3GS upward
All Apple iPads
Apple iPod Touch (4th generation)
Versions: 4.2/4.2.1/4.2.5/4.2.6/4.2.7/4.2.8/4.2.9/4.2.10
4.3/4.3.1/4.3.2/4.3.3/4.3.4/4.3.5
5.0/5.0.1/5.1
Android Devices:
Android OS version 2.2 (froyo) with WVGA800 (480x800) or WVGA854 (480x854) screen
Android OS version 2.3.x (gingerbread) with WVGA800 (480x800) or WVGA854 (480x854) screens