Mobile Casino FAQ's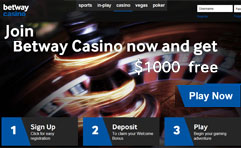 Play at Betway Mobile Casino
Mobile casinos are a relatively new development in the online gambling world and as such there are many questions surrounding them and how they work. Here we take a look at some of the most frequently asked questions regarding mobiles casinos and answer them for you.
What is a mobile casino?
Mobile casinos offer players the chance to play casino games for fun or real money on their mobile phones or tablet devices from any location provide that they have access to the internet.
How do I install or download mobile casino games on my mobile device?
Downloading and installing mobile casinos on your smart phone or tablet device is quick and easy to do. To get started all you need to do is visit the mobile casino of your choice via your web browser or scan a QR code to visit the website. Next click on the download link and you'll have direct access to the games library. Once all games are downloaded you will have the option of registering a free play or real money account. Then simply login, make your deposit if you're playing for real money and play.
Do casino apps work on all phones?
No. Whether an app will work on your phone or not will depend on whether or not your device is supported. Some Blackberrry or older model phones do not have Java enabled which means that most apps will not operate on these devices.
In addition, casino apps designed for iOS will not work on Android powered phones and vice versa. To find out whether an app will work on your phone, read the details and requirement for it or simply download the casino link to see if it will allow you to install the application or not.
What is a QR code and how do I use it?
A QR code is a type of scannable code, it is generally a block that is comprised of black and white squares. In order to use it, your smart phone will need to have an active camera along with an active QR code reader/scanner, then simply point the camera at the QR code and wait for it to read. Some mobile casinos can be accessed via these codes which direct either to their website address or casino app download.
Is my data secure at a mobile casino?
Yes. As with online casinos, reputable mobile casinos use the latest software security and encryption methods to protect your personal information and banking details. This information is not shared or sold to third parties. It is always advisable to do research on a mobile casino before you play, check that it is licensed and regulated in a reputable online gaming jurisdiction and that it receives favourable reviews on the player forums.
Can I deposit and withdraw funds at a mobile casino?
Yes. For all intents and purposes mobile casinos function in exactly the same manner as online casinos, the only difference being the device from which they are accessed. Reputable mobile casinos offer players a variety of secure banking options via which deposits and withdrawals can be made.
To make a deposit or withdrawal at the casino, simply click on the banking or cashier link, select the banking option of your choice, type in the amount you wish to deposit or cashout and click to process the transaction.