Top 10 Las Vegas Gambling Mistakes People Make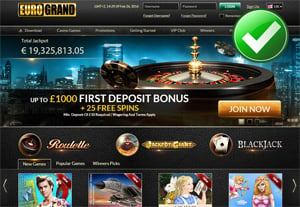 Practice your casino game play before your next trip
Play at EuroGrand Casino now!
Las Vegas is not called "The Fabulous City of Las Vegas" for nothing and there are a number of reasons to visit the city from the host of entertaining shows, nightclubs and restaurants on offer or even to get married, but most of all, if you're going to gamble, there are few casinos in the world that can touch the resorts here.
More than half of the visitors to Las Vegas each year inevitably try their hand at gambling, but whether they prefer slot machines or table games, there are 10 common mistakes that these players make. Here we point them out to you so that you can avoid them on your next visit.
1. Playing the wrong games
Most casual gamblers walk into a casino and look around for the first game that strikes their fancy. Others think that they're James Bond and can take on the Blackjack or Baccarat tables and win without too much effort. The truth of the matter however is that just because a slot seems like it's going to pay out, doesn't mean it will and when it comes to table games, the average person has no idea how to play them correctly.
So before you play and lose, decide which game you are going to play. If it's slots, then do some research on where to find the loosest slots (they're generally located off the strip) or at least if you're playing on the strip choose a machine with the highest payout rate, not just the shiniest or noisiest one. If you prefer table games, then study the rules on the plane ride to Vegas and once you've arrived, start off by wagering small amounts first, then when you're comfortable with the game and how it all works, you can consider raising your stakes.
2. Getting overly excited about all of the slots
Las Vegas is home to millions of slot machines and they are literally everywhere from the airport as you arrive and everywhere in between from grocery stores to gas stations. The point of the matter is that it is very tempting to just play machines wherever you go ‐ but that is a big mistakes because some of the slots in grocery stores and other strange places are very tight, and even though they may only require a few pennies to play, they're not worth wasting your money on. So unless your goal is to say that you played a slot at every location you stopped at, it's better to keep your budget for the casinos.
3. Not being mindful of etiquette
Learning and practicing proper casino etiquette cannot be stressed enough. An empty chair at the tables does not always mean there is an open space as someone may be playing multiple hands, so always ask before you sit down. Do not get drunk and play, avoid giving unsolicited advice to everyone around you, leaning over the craps table while the dice are in play, throwing tantrums, harassing cocktail waitresses and not tipping dealers are all in very bad taste.
If you're unsure how to behave in a certain game or what certain things like a cup on a chair at a slot machine mean, brush up on your casino etiquette and game play with our guide here.
4. Chasing Losses
In gambling you can be up $50 one minute and down $50 the next ‐ that's the nature of the game and you have to accept that. Always set a loss limit before you start playing and when you reach it, call it a day and go to the pool or to dinner or something else. Never chase your losses thinking that on the next spin/hand/round you'll make them up or before you know it, it will be 3am and you'll be down thousands.
5. Playing with borrowed money
It can be very tempting to get a cash advance from your credit card facility to play the casinos, but this is one of the biggest mistakes you can make. Firstly you never want to bet more than you can afford to lose, but more importantly borrowed money incurs interest and so you lose even more. If you've lost all you budgeted for then end your time at the casinos, there's plenty to do elsewhere in Vegas.
6. Not researching your hotel's amenities properly
Believe it or not, not every resort in Las Vegas has a casino. The Trump and Mandarin Oriental are beautiful hotels but they don't have slots in their lobbies or a casino floor. So if you're looking for a hotel that offers gambling, make sure you do your homework and stick with the big names that do.
7. Not enrolling for the casino's reward program
Most Las Vegas casinos offer loyalty programs which earn you points for your casino game play and you can them redeem these for a number of perks from dinners and entertainment to upgrades on your hotel room. They may even earn you full RFB. So if you neglect to sign-up for these programs, you're effectively throwing away free money. Find out who offers the best loyalty programs in Las Vegas here.
8. Not checking game rules and guidelines
Not bothering to check on which casinos and tables have the highest payout is just laziness and it's a mistake that can cost you. Different tables offer different rules and payouts, for example blackjack tables may offer 3:2 payoiuts or allow you to double down after splitting a pair ‐ these small differences in rules can make a big difference to your returns. So learn what they mean and look around before you sit down.
9. Playing Side Bet options in Blackjack
Blackjack carries one of the lowest house edges of all casino games. To counter this, casinos have introduced side bets like Pair Square (offering the option to bet on being dealt a pair on a certain hand) and Lucky Ladies (wagering that your initial hand will total 20) in order to boost the house advantage and their revenue. These are generally sucker bets, so stick to the basic game to keep the odds in your favour.
10. Thinking that Penny Slots are risk free
Due to their low denomination and minimum betting requirements, most players feel like playing penny slots is not really playing for real money but keep in mind that even though your betting values may be low, the house edge on these machines can be relatively high in comparison to other slots. Also remember that new generation penny slots require that you bet on a number of lines simultaneously, increasing your minimum bet from a penny up to 50 cents per spin which can add up quicker than you think.