Gambling Stories
Buffett backs $1 billion NCAA tournament prediction prize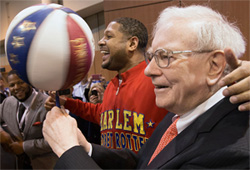 Billionaire business magnate Warren Buffett is making headlines again, this time with the insurance arm of his company Berkshire Hathaway Inc. backing a $1 billion prize offered by Quicken Loans Inc. to a contestant lucky or skilled enough (or both) to predict the winner of each game within the National Collegiate Athletics Association's men's basketball tournament this year.
Prize money will be paid out in 40 annual instalments of $25 million and should it so happen that the competition sees multiple winners, these instalments will be split equally among them. Alternatively if there is a single winner, he/she will have the option of receiving a single payment in the amount of $500 million.
Attempting to predict the winners of each game in this famous tournament has become an obsession in the U.S with celebrities often posting their picks online and corporate employees across the country establishing office betting pools to compete against them. Even President Barack Obama gets swept up in the madness and makes a public show of releasing his bracket predictions and even correctly predicted that the University of North Carolina would win back in 2009.
The single elimination tournament which begins in March of every and is commonly referred to as "March Madness". This year the tournament will see 68 teams participating and with play-in games being excluded the bracket will come down to 64 teams when the competition commences. According to the competition rules entries will be limited to one per household and only accommodate the first 10 million contestants.

Looking at the numbers, according math professor Jeff Burgen of DePaul University the odds of someone picking the winner of every game in the 64 team bracket correctly are fewer than 1 in 9 quintillion. Even with a sound knowledge of basketball being factored in, chances may only improve to around 1 in 128 billion.
Furthermore, of the 8.15 million brackets that were submitted to ESPN in 2013, none were 100% correct even after the field was narrowed down to just 32 teams. The best record which was shared by 5 brackets was 30 and 2.
Ultimately, the odds of Buffet's firm having to pay out are around 1 in 10,000 if all of the 10 million projected entrants have some basketball knowledge.
So even though the prize money is massive and it is definitely entertaining to make your predictions and stand the chance of winning $1 billion dollars by doing so, it would seem that is rather a safe risk for the organisers as well as Berkshire Hathaway Inc. Let's face it, we didn't really expect anything less because after all, Warren Buffett, like most of the other American billionaires involved in gambling activities, didn't get to where he is by taking uncalculated risks that almost always work out in his favour.