Gambling Stories

Dan Bilzerian ‐ the man who believes that betting on everything in life is an essential condition.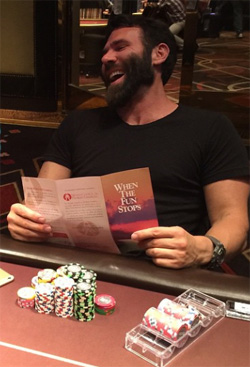 If you follow the gambling headlines, pseudo celeb tattler pages or any form of social media you've probably heard the name Dan Bilzerian. This soon-to-be 34 year old trust fund baby has made quite the name for himself as a globe-trotting playboy/actor/internet sensation who lives a life filled with excess ‐ from gambling in Las Vegas Casinos, private jets, guns, fast cars, and hot parties to even hotter, almost always naked women. A lifestyle which 6.5 million plus fans on Facebook and 5.43 million followers on Instagram seem to aspire to ‐ even if they have to live it vicariously through Dan who never seems to tire of sharing his lavish adventures online.
In spite of being handed everything on a silver platter in life, Bilzerian has actually made a name for himself as a professional gambler. In 2009 he played in the World Series of Poker (WSOP) main event and was featured in six episodes of the show's television broadcast. He finished in 180th place and earned $36,626 which was merely a drop in the pond for him, considering his formidable family fortune.
According to various reports his gambling wins from one tournament alone amount to $10.8 million but it is uncertain how much of his approximate $100 million net worth is owed to gambling wins. One thing is for sure though, he's not afraid to take risks and play big, even if that means losing big ‐ or at least what some would consider big. One such example is a recent $1 million loss at the tables which he blamed on the "view" in a Facebook post ‐ that view being of a scantily clad member of the opposite sex.
Bilzerian's gambling activities are not restricted to high roller play at Las Vegas Casinos however, he is reported to bet on a number of activities, and is said to believe that "betting on everything in life is an essential condition". And so of course, some crazy gambling stories follow including a race at Las Vegas Motor Speedway where he raced a 1965 A C Cobra against a Ferrari 458 Italia driven by Supreme Court Litigator Tom Goldstein and won, walking away with $385k.
While Dan may live in Los Angeles, he spends a great deal of time in Las Vegas ‐ a city of excess that seems to be the perfect fit for the millionaire playboy who never seems to tire of gambling and partying. And he's become somewhat of a fixture on the who's who of the city, recently hosting an insane asylum themed Halloween party at Marquee Las Vegas where he judged his own lookalike contest, awarding the winner with a $10k cash prize.
It seems like the sky is the limit and anything is possible when it comes to Dan Bilzerian. In fact, at the time of writing this he is fuelling his private jet and heading back to the fabulous city of Las Vegas for another blow out week-end...we can't wait to see what happens next.