The importance of RNG and Payout Percentage Auditing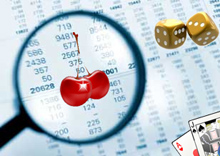 We often get questions about who is responsible for the testing and verification of online casinos and the importance of this when it comes to Random Number Generators (RNG's) that govern game play and ensure that results are in fact random, as well as the published Payout Percentages for online casino games.
Those are two very good and important questions. While software providers like Microgaming, Playtech and Cryptologic are responsible for a certain amount of testing when developing online casino games and software, the testing and verification of aspects like RNG's and Payout percentages should be done by external companies and bodies.
Originally many of the online casinos were audited by Price Waterhouse Coopers but later once eCogra formed, this regulatory body took on the responsibility of auditing casinos bearing its seal and license. It is not the only auditor used at online casinos but it is important to research the one that casinos say they use to ensure credibility.
Here we look at the concept of RNG's and Payout Percentages, how they are audited and what you should be on the lookout for when playing at an online casino to ensure that the results are fair every time you play.
Testing of Random Number Generators
Random Number Generators (RNG's) are the "machines" or "computers" (for lack of better words) that govern online casino game play and determine what cards, spins or rolls of the dice will appear next. While most casino players take RNG's for granted, there is a need for these to be audited by a reputable company, because without these checks, players cannot ensure the fairness of games and are at the mercy of the online casino in question and we all know that not all casinos are honest or trustworthy, as can be seen in our casino warnings, rogues and blacklist section.
Even when an online casino is reputable it may not employ the same rigorous testing methods that external bodies or auditors do to ensure that the RNG's are working correctly and that the games really are games of chance.
Those in charge of testing will closely examine whether or not there is a bias towards any specific cards, numbers or reels results patterns and predictions. Once they have ascertained that this is not the case they will declare that the RNG is in correct working order and that all online casino players have an equal chance of winning.

Average Payout Percentages on Casino Games
Online casinos generally publish the payout percentages across casino games. These results refer to the average payout percentage that a player is able to win for wagering 100 credits over time and the values differ from one casino game to another.
Auditors will ensure that this information is correct and percentages are verified on an on-going basis. Reputable online casinos will usually publish regular, often monthly results for new and existing players to read.
When looking for an online casino to play at, always ensure that it is licensed, and in addition audited by a reputable external organisation such as eCogra or TST. This way you'll always be sure that games are fair and you have as much chance of winning as anyone else.
For complete peace of mind play at eCogra certified Luxury Online Casino now!