Online Casino Warnings, Rogues and Blacklists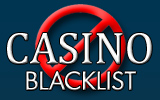 Unfortunately in life there are those organisations, businesses and people that are less than savoury in their ethics and business practices. The world of online casinos is no different and from time to time casinos that treat players unfairly or employ dodgy business practices come to our attention. There are also those that have fair reputations but do have some issues which may influence whether or not you'd like to play at them, and being properly informed will help you to make that decision wisely.
With this in mind we have compiled this list so that you may avoid any problems while playing online and ensure that you can enjoy every minute of your gambling experience.
Ace Live Casino: There have been more than just a few player complaints that this casino has been aggressively confiscating winnings citing "bonus abuse" with no justification or evidence to back up these claims. When approached to discuss this matter they have summarily ignored all player resolution bodies, and refused to take player complaints seriously. To date some big winners remain unpaid. Avoid this casino.
Best Casino: this casino is reportedly using payment verification processes as an excuse to not pay out funds owing to players, confiscating winnings and not responding to either player queries or watchdog enquiries regarding the matter.
Betmotion: This casino has begun to confiscate player winnings without any explanation and refuses to engage in dispute resolution processes. Not a place you can trust.
Betspace: This casino has not paid out player winnings. While initially offering to return the most recent deposits of the winners, this still has not been actioned and at present it seems that non-payment is a permanent issue that will not be resolved.
Casino 770: There have been numerous complaints regarding non-payment and confiscation of winnings by this casino and when these have been queried the casino has been non-responsive, where there is smoke there is generally fire...beware!
Casino Rewards Group: This group runs casinos like Zodiac, Golden Tiger, Classic Casino, Nostalgia Casino, Aztec Riches, Villento, Yukon Gold and many, many more since they have acquired those going out of business of late. This is one of the worst groups when it comes to cashouts as they have a $4000 limit per week, which means you're going to wait a very long time to see your money if you win any substantial amounts of money here. Some of the casinos also feature predatory bonus terms, so beware and always read and understand the T&C's before playing.
E-casino365: This casino seems to have some very serious money management issues. Players not receiving their funds have been told that this is due to casino's processors experiencing problems but to date the casino management has taken no responsibility for the issue and players remain out of pocket. Until this issue is resolved they will be on our warning list and you are advised to avoid playing here.
Grand Privé Casinos: This group owns and operates casinos like Casino Grand Bay, Lake Palace, Belle Vegas, Fortune Junction, Jackpot Wheel, Jupiter Club, Villa Fortuna and Roadhouse Reels. The complaints regarding these casinos can be found across the various casino watchdog sites and they are blacklisted as "rogue" and to be avoided due to everything from bonus related issues such as withholding bonuses, accusing honest players of bonus abuse, non-payment to bad business practices and more. They were once a Microgaming powered operation but currently run inferior BetOnSoft Software so there is no reason you should even want to play here at all.
Mighty Slots Casino: This casino withholds payments, ignores all communication attempts and confiscates winnings, definitely another one to avoid.
Parasino: It was always a stupid name for a casino and now this casino is simply not paying its players. Player complaints are simply ignored as are any attempts made to communicate regarding this problem. We strongly advise that you avoid this casino; after all there are many better places to play.
Red Rabbit Casino: Communications across the board are non-existent with all staff seemingly AWOL with mails being returned as "undeliverable". Do not bother playing here as we're not sure anyone is actually running this casino anymore.
Rushmore Group: This group runs Rushmore Casino, Cherry Red, Pure Vegas, Slots Oasis, Slotsville and Euro City casinos. Players have experience long delays in payment running into many weeks and even months here and from communications with casino management this doesn't seem to be a problem to them. Rather avoid these and play at casinos that pay on time.
Sloto'cash Casino: This is not a totally rogue casino and you'll find good reviews about it online but do proceed with caution as player complaints include voiding of winnings due to predatory bonus terms and conditions and slow response rates.
Slots Jackpot: You may hit the jackpot but you won't get paid! This casino has been reported for confiscating winnings and was unresponsive to numerous queries regarding the reasons for months. Avoid this casino.
RTG Casinos: Before playing at any RTG Software powered casino bear in mind that if a Random Jackpot is won and the casino decides not to pay out for whatever reason, the casino keeps the money and does not add it back to the total of the Jackpot meter. A recent example of this occurred at Sloto'cash when the casino voided a $12,400 jackpot win alleging that the player wagered more than $6.50 per spin which was apparently against their bonus promotional terms and conditions. These terms in themselves are predatory, so proceed with caution if you don't avoid them altogether.
These are just a few of the many online casinos you should be cautious of and/or avoid when playing online. To be safe rather stick to reputable operations as recommended on this site such as Golden Tiger or Titan Bet Casino. Always keep in mind that while even reputable casinos may have one or two issues here and there, they are at least honest enough to try and resolve them promptly without any huge inconvenience which makes them a much safer bet with your money and well-being. Happy Gambling!