Can you really trust Online Casinos?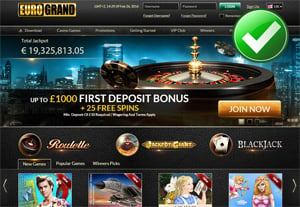 EuroGrand Online Casino is a trusted place to play!
Can I really trust online casinos? This is a question you'll find posed on many different player forums whether it be regarding payments or the trustworthiness of online casino games and payouts.
Many people who are interested in playing online are often hestitant as they have no idea how to ascertain whether or not they will be able to find an honest, safe online casino where their transactions will be secure, deposited funds will be safe and where the games aren't rigged.
Here we'll take a look at various aspects of trust in online gambling and how you can best judge whether or not an online casino you play at will be trustworthy or not.
A logical look at online casinos
The online casino industry has been around for over more than two decades and millions of players from across the globe play at various online casinos. Of course, there have been many fly-by-night casinos that have opened and closed over the years but these are more the exception than the rule.
After all, the industry would have not been able to enjoy such significant growth if there weren't legitimate operations providing players with a safe and satisfying gambling experience that ensured their repeat business.
Another aspect of the industry that speaks volumes about its growth and associated repute is the fact that many online casino groups are publicly traded entities, listed on the world's various stock exchanges. In order to enjoy such a position, there is an element of transparency required by these organisations.
Where you play matters
When it comes to answering whether or not you can trust online or mobile casinos, the answer will ultimately come down to where you are playing. Generally online casinos operating Microgaming, Playtech and more recently NetEnt software are reputable as these providers have been in the game for the better part of the industry's lifetime.
Even within these groups there are more established online casino groups that you can trust. For example, in the Microgaming fold groups like the Palace Group who own and operate Betway online casino have a good reputation, as does the Casino Rewards Group with Luxury Online Casino and UK Casino Club casinos. From the Playtech fold, EuroGrand is a trusted name, and from NetEnt, Betsafe casino is a solid option.
If you are looking at a new online casino, always consider the following aspects to determine whether or not it is a safe option:
Which software provider powers the casino in question? As mentioned above, this often gives you insights into whether or not the casino is backed by a reputable provider that insists on certain levels of quality and service delivery.
Is it licensed and regulated? If so, where? The licensing jurisdiction of an online casino makes a huge difference and you can read more about that here.
Is the casino approved by an independent watchdog like eCogra so that you are assured of independent audits when it comes to online casino games and payouts.
Do they have a customer support team available 24/7 that you can actually get hold of? Test this before you play and if the answer is no, run for the hills.
Check the blacklisted and rogue casinos lists on WinTheBet.com and on the various player forums. If you find that a casino you are considering has numerous complaints regarding lack of payments, predatory terms and conditions or any other service level issues, then it's best avoided.
Are online casino games rigged?
As mentioned, a major concern amongst people considering playing online is whether or not the casino games in question are rigged. The truth is they could be if a developer really wanted to do it, BUT online casinos don't really have to rig games because most casino games already have a built in house edge that ensures a profit over the long term. Also, casinos would be taking a huge risk in fixing games because if anyone found out, it would mean the death of their business, so why take such a huge chance when you already have the inside track on most games?
In addition, just like their land based counterparts, reputable online casinos (and yes, this is where the licensing and regulation element come into play yet again) are audited on a regular basis to ensure the fairness of their games. These results are often published for public access. With this kind of in-depth scrutiny rigging games is not possible, even if they wanted to.
As you can see from the above discussion, whether or not you can trust an online casino, really comes down to where you play and finding a safe place to do so does require a little work, but it's definitely worthwhile.