Great Blue Slot Review
Great Blue is a 5-reel 25-line Slot game abundant with scatters, wilds, and bonuses. The game is set in the depths of the ocean and Players are in for an exciting underwater adventure as they battle the Orca in the hopes of doubling their winnings or obtaining any of the other rewarding prizes, including bonus payouts. In the Bonus rounds, Players set out on a mission to collect precious pearls which can earn them 8 free spins with x2 multiplier or 33 free spins up to x15 multipliers.
Play Great Blue Slots at EuroGrand Casino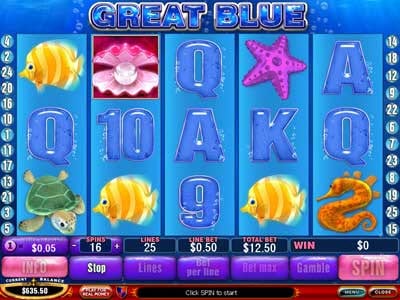 The object of Great Blue is to obtain winning symbol combinations by spinning the reels. To play, click the "Click to Change" button to set your wagering denomination. Choose your Line Bets and Paylines accordingly. If you select a high payline all the lower ones will be selected too. The Bet Max option activates all paylines with the maximum bet per line and spins the reels. Your Total bet per game round = line bet X active paylines. The Spin option spins the reels with the current selection of lines and line bets. Your wins are calculated as Line win = line bet X corresponding multiplier according to the paytable. Your Scatter wins are calculated as total bet X corresponding multiplier according to the paytable.
Payouts:
Payouts are listed on the Paytable screen. Winning combinations must start from the left most reel and the symbols have to be consecutive.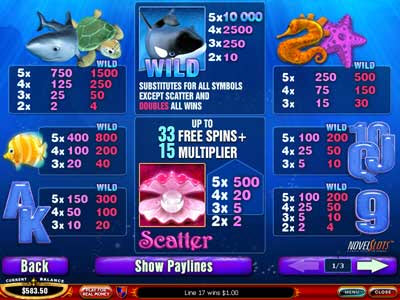 Your win amount is calculated as line bet X the payout. If two winning combinations occur on the same line, you are paid out at the higher value. If more than one active payline has a winning combination, the winnings are added up. The Wild symbol can stand for any other symbol, except Scatter and Bonus, to make the best possible winning combination. There is also a separate payout for several Wild symbols on an active payline. The Scatter symbols do not have to occur on a particular payline — if there are three or more Scatter symbols in the results, an additional win is earned. The payout for Scatter symbols is multiplied by the total bet.
Bonus Round:
At entering the bonus game, you are immediately awarded 8 free spins with multiplier 2. During the free spins, your line bet, coin size and number of lines are those last played before the bonus round. If three or more Scatter symbols occur on the reels during a free spin, you are awarded an additional 15 free spins over and above your existing ones. The win multiplier remains the same. You must choose two sea shells to get additional free spins and multipliers. The additional win multiplier applies to all wins during the free spins. The Continue option commences the free spins.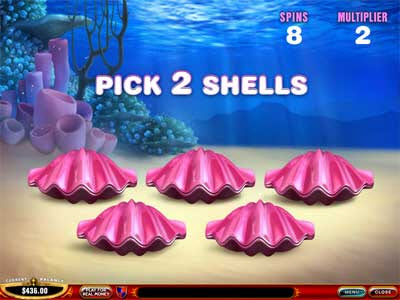 More of Playtech's exciting Novel Slots games are available right here..