Everything you need to know about RFB comps at casinos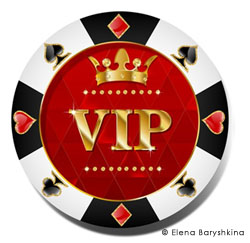 If you've ever been around casino players you'll probably have heard about the much talked about and sought after RFB comp offered to a select few by Las Vegas and other land based casinos. But what is it and more importantly how can you get it?
In the context of casinos, RFB is one of the higher level casino VIP comps packages which are awarded to some players and it stands for "Room, Food and Beverage". This means that these lucky few are invited by their casino host to visit a specific casino and are offered free rooms, meals and drinks on the casino for the duration of their stay upfront.
RFB generally includes the minibar in your room and the champagne you order at 3am after a fun night at the casino. Some casinos will also give you show tickets as part of the package. There are however some exclusions like the Laundry Service and tips to waitresses and casino staff, so if you are fortunate enough to be given this type of offer you still need to budget for some things.
Generally this level of complimentary offer requires VIP status at the casinos which means that you will have to bet (and often lose) large amounts or win huge ones (think $100k and over) so there is enough incentive for the casino to invite you back in an attempt to recoup some of the losses.
When visiting Las Vegas casinos, guests who are top-tier loyalty card holders at the M Life (NOIR) or Total Rewards (Seven Stars) programs, enjoy RFB at almost 100% when visiting these casinos, which is why these are amongst some of Las Vegas' top comps programs.
What you may or may not know, is that when deciding on what level of comps to award to guests, casino hosts don't look at players' actual wins or losses but rather the ultimate theoretical house win on players' turnover on the games they play. In other words, comps are calculated on what a casino expects to profit from you. Obviously each casino has their own specific algorithm for calculating how to award comps, but theoretical house win is always at the heart of it.
As most players know, casino games like Craps carry a very low theoretical win for the casino while Slots have a high theoretical win rate but when it comes to earning comps you need to have a high rate of theoretical losses which means that you'll have to place a couple of hundred bets on Craps or considerably fewer on slots to be awarded in the same way. So if high level players club tiers and comps are what you're after it's always advisable to play games like slots.
As you can see from the above discussion, RFB is a great player perk but it's not exactly complimentary in the true sense of the word given that you usually have to spend large amounts of money at casinos to get it. Nevertheless, if you are a serious player, it definitely makes you feel valued and appreciated and makes your Las Vegas Stay all the more enjoyable.