Gambling Headlines
Gambling Addiction ‐ Online Gambling doesn't lead to more problem gamblers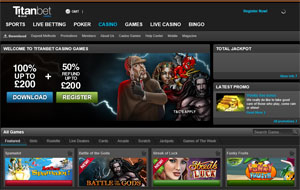 Gamble Responsibly at Titan Bet Casino
For decades anti-gambling proponents have argued that greater access to online casinos leads to an increase in problem gambling behaviour and cited this as being the primary reason that legalization of online gaming should be halted or reversed.
Recent research conducted by Harvard Medical School's Division on Addiction however paints an entirely different picture with findings concluding that there is no evidence that online gaming creates more problem gamblers than any other form of gaming activities that people have access to.
One of the primary findings of the survey of 4000 online casino players revealed that only a small minority of respondents exhibited what was termed " intense gambling behaviour " that exceeded that of others within the sample. According to researchers, these results are in line with most other forms of gambling who further state that cases of gambling addiction have remained constant over the past three decades in spite of the advent of online casinos and the accessibility to gambling that they offer players.
While there is not debating that gambling addiction is a serious problem for the people affected by it, it is important to remember that such cases are the exception rather than the rule as anti-gambling lobbyists would have you believe. In fact, the research indicates that the majority of players are spending less time and money playing than many think.
Of course, the online gaming industry just like any other does its best to lure players with generous free money bonuses and attractive casino promotions but in spite of this, international gambling figures and trends show that this does not create a sudden surge of problem gambling incidences.
Interestingly, of the reported $475 billion's worth of gambling losses across the globe, a mere 7% was lost in online casinos. Even to date, New Jersey licensed online casinos have generated underwhelming revenues, further supporting evidence that online casino's ability to generate so called "addictive gambling behaviours" have been grossly exaggerated.
In addition, online casinos are also more proactive than their land based counterparts in terms of promoting responsible gambling policies which include safety measures like age verification processes, self-exclusion options, and voluntary limit setting which help to curb under-age players from gambling and assist problem gamblers in the recovery process.
So while the ease of access and anonymity that online casinos offer players is obviously very appealing, it does not necessarily make for a formula producing addiction. As the Harvard research indicates, the time and money people spending playing online is of no more cause for concern than gambling activities elsewhere.
The fact remains that whether you play at a brick and mortar casino, bingo hall or online casino, you should always play responsibly, only bet the money that you can afford to lose and if you find yourself exhibiting problem gambling behaviour take steps to limit your gaming and get help before it escalates. Happy Gaming!