Online Gambling Resolutions for the New Year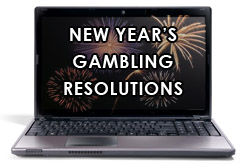 With the holiday season firmly behind us and the New Year in full swing, by now many New Year's Resolutions have already fallen by the wayside leaving us wondering why they even existed in the first place or why we bother to set them.
Psychologists believe that the reason this occurs is due to the fact that we don't really possess the passion and motivation it takes to give our full effort in order to make resolutions work. So if yours have gone for a loop, take a page out of the experts' books and rather set resolutions that you will enjoy striving for and find pleasure in accomplishing.
When it comes to gambling a great new resolution would be to aim to have more fun when playing at your favourite online casino. This may sound simple and almost a little crazy but if you're like most gamblers, you probably play more to win than for fun. In order to consistently win the bets you make, you need to play smart too, so the best resolution to make would be to have more fun by playing smarter in the year to come.
In order to help you to achieve just that, we've included a list of smaller resolutions or objectives for you to strive for when you play at online casinos in the New Year.

1. Resolve to add a few extra pounds/dollars/euros to you casino budget each week
Even if you don't play regularly, it is great to save a little extra money for playing with when you are in the mood to gamble. It also means that if you receive an attractive promotional bonus or offer you'll have the money on hand to take advantage of it.
2. Resolve to take advantage of online casino offers and promotions
Nowadays online casinos are more competitive than ever and are always running promotions in order to attract players and keep them playing. Be on the lookout for lucky draws, tournaments and double points offers. These offers not only increase the fun but also score a little extra.
3. Resolve to increase your loyalty points balance
The more you play the more loyalty points online casinos award you with. Instead of cashing them in as soon as you are eligible to, aim to increase the balance until you can claim a generous amount instead of dribs and drabs, that way you will really feel rewarded and can enjoy a solid free online gambling experience.
4. Resolve to keep a gambling log
While this may not seem like much fun, it is the smart thing to do. Not only do some countries allow tax deductions if you can provide documentation of your losses, it will also help you to judge your overall gaming spend and gamble responsibly. Look out for great smartphone apps that can assist you in doing just this.
5. Resolve to learn a new game
This year expand your online casino games repertoire by learning a new game. Many table games and video poker machines offer much lower house edges than the slot machines, which means that you can win more money if you learn to play them according to the correct basic strategy.
If you're not in the mood to learn something new, then try a new format of your favourite game or test out the new slots when they launch, you never know when you may find your new favourite game.
6. Resolve to formulate a game plan and stick to it.
Don't just play at the casino and blow your budget without having a game plan. You can maximise your enjoyment if you spend a few minutes to plan your next online casino session. Decide on things like which games to play, how long you will play for and how much money you are prepared to gamble.
These are just a few suggestions to help you play smarter and increase your wins in the year to come. Have a wonderful, prosperous New Year and Happy Gambling!