Mobile vs Online Casinos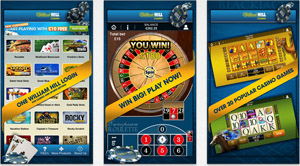 William Hill Casino Club offers a great mobile experience
Some people play at both mobile and online versions of the casinos, others are firmly for either online or mobile casinos. If you're still undecided though, we're breaking down the battle between the two so that you can make an informed decision.
Portability and Mobility
As the name implies, mobile casinos are portable and can be played on any smartphone or tablet device from any location in the world. Online casinos on the other hand are restricted to play on laptops and PC's ‐ and while laptops are semi-portable, they are not anywhere as quick, easy and convenient to use as your iPhone or iPad.
So while, for the most part, online casinos have brought online gaming into our houses, mobiles casinos have brought them to the palm of our hands.
Games Collection
Online casinos offer a variety of casino games including Blackjack, Roulette, Video Poker, Bingo and Slots. There are hundreds of game variations in each category with seemingly endless titles to choose from and new games being released on a regular basis at most reputable casinos.
Mobile casinos generally offer the same catalogue of games but with more limited numbers. The reason for this that mobile casinos are a very recent development whereas online casinos have been around for over a decade, so casino software providers are still trying to catch up on releasing mobile versions of all their best titles.
Mobile devices also generally have limited memory space available so you don't always want to fill that space with an entire suite of mobile casino games, when all you want to really play is a particular slot. The nice thing is that developers have realised this and allow players the ability to download the games that they want to play.
The online casino games selection on the other hand is way more diverse, and not only offers a greater variety of games, but with the high quality graphics and animations capabilities on modern PC's and laptops you can now enjoy games on 3D, HTML5 or Flash (browser based) platforms. While mobile casinos are fast catching up with HD screens and technology, for the most part they are still a little behind online casinos in terms of the diversity and quality of their offerings, but we are sure this won't be the case for long.
Free Play Mode
While online casinos have always offered players the opportunity to "try out" their games for free before playing for real money, many mobile casinos did not initially offer this functionality due to limited bandwidth and memory space capabilities on mobile devices. As time has progressed however, the better mobile casinos have included a demo mode in their offering.
Game speed and accessibility
When it comes to game speed, online casinos still tend to be faster than their mobile counterparts, especially if you happen to have high speed internet access. Due to the fact that online casino games are stored on servers, the bandwidth required to access them is comparatively lower. Mobile casinos however require you to either download the game or use wi-fi or your phone's built-in internet connection to play, this can often result in buffering issues, time lags and occasionally dropped connections. Generally these issues which once faced online casinos in the days of dial-up internet have been resolved and we're sure we'll see the same trend happening with mobile casinos in future.
User Interface and Experience
A big pro for online casinos is the fact that they are played on considerably larger screens than mobile versions. This means that graphics quality is considerably higher than that of the smaller screen mobiles devices. Ease of use is also another big draw card as game controls are easily visible and easy to use, ensuring an overall better user experience than mobile casinos played on phones or tablet devices.
However, with the launch of the latest smart phones and tablets, we are seeing increasingly better graphics and screen sizes are bigger too. While they will never rival PC's and laptops in size, the graphics quality is fast catching up.
As you can see from the above discussion, it is difficult to declare a clear winner in the battle between online and mobile casinos as each has their own unique set of pros and cons. The deciding factor comes down to your preference...do you prefer to play on a bigger screen with more selection or have the convenience of playing wherever you want, whenever you want.
No matter what you decide, you're assured of an entertaining and potentially rewarding experience every time you play...the choice is yours.