Mobile Casino Tips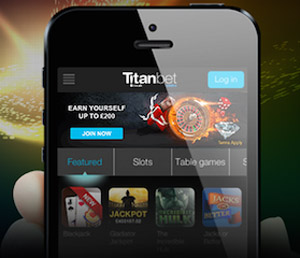 Top Tip:
Play at Titan Bet Mobile Casino
The rapid advancement in mobile technology is revolutionising the way we process information and enjoy entertainment. Online casinos have taken advantage of this by developing mobile casino platforms and apps which literally put online gaming right at our fingertips and allow us to enjoy mobile casino games from literally anywhere in the world as long as we have our smartphone or tablet device handy.
As with any other form on online gambling, it is important to always be adequately informed as to where to play mobile casino games, how they operate and what you can expect from the whole experience before you play. Here we'll take a look at a few mobile casino tips so that you can get the most out of your experience every time you play.
Check the compatibility of your device
In general modern mobile phones and devices are compatible with mobile casinos and the games that they offer. This is not to say that all mobile games can be played on all phones or tables or that every phone is compatible with all games so it's important to find out whether or not your device will be able to manage a mobile casino platform or app if you are buying it for this purpose. In general you will need to have internet access on your phone to play.
Understand mobile operating systems
Understand the difference between the various phones and main operating systems like Windows, Android and iOS (used by iPhones and iPads) as this will be important when accessing the casino games you'd like to play.
On general mobile phones the technology is less advanced than their smart phone counterparts and while you can play some casino games, they generally have fewer features and lower quality graphics. You will also have to access mobile casinos through your phone's browser, sign up and you will then be sent a text message with a link to the games.

With smart phones and tablets like the iPhone, iPad or any Android powered phone or tablet you will be able to play via a QR code, mobile casino app or via your phones browser and play directly from these. Casino games on these platforms are generally more elaborate with better graphics and more features.
Play at a reputable mobile casino
Not all mobile casino are reputable, look for properties that are licensed and regulated and are the big names in online casinos who use reputable software from Microgaming or Playtech as doing so will ensure the safety and security of your information when accessing the casinos via your phone or tablet device.
Select your bonus wisely
Like online casinos, mobile casinos offer a variety of bonuses and promotions to get you to play so make sure that you shop around to find the best deals and read the associated terms and conditions because bigger doesn't always mean better if the wagering requirements are steep.