Gambling Headlines
Microgaming launches live dealer Blackjack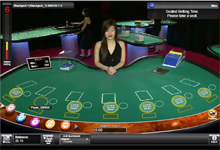 Players will now be able to experience the thrill and exhilaration of a land based casino in the comfort of their own homes. The new platform ensures a sense of realism that is immediately evident as one navigates the crisp, clear interface and interacts with casino personal dealing cards in real-time via streamed live video. But this is only where the fun begins...
Microgaming has also introduced two ground-breaking features, namely "Bet Behind" and "Waiting List", to further enhance the player experience throughout the game. The Bet Behind feature enables other players to follow games in real time and place bets on the seated players, just as one can do in a brick and mortar casino. There is no limit to the number of players that can participate in a single game, and bets can be made across multiple games simultaneously.
The Waiting List feature acts as an alert function for players, offering them a way to keep an eye on their favourite dealers as well as notifying them of when a space opens up at their tables. This not only guarantees that visitors can play with dealers of their choice, but also allows them the opportunity to enjoy side games, safe in the knowledge that they will not miss an opportunity to join in a game of their choice.
Microgaming's latest Blackjack offering represents the most recent addition to their current suite of Live streaming games, which currently includes Baccarat and Roulette and it seems that the player verdict is in and once again they have a winner!