Las Vegas' Lion's Share Slot pays Jackpot after 20 years!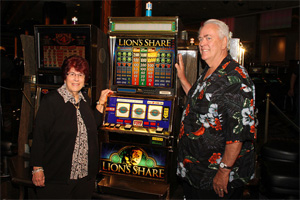 Lucky Lion's Share Jackpot Winners
Walter and Linda Misco
It's the end of an era at the MGM Grand Casino in Las Vegas, which until recently was the home to the Lion's Share Slot, a machine that stubbornly held on to its jackpot for over two decades!
This stingy Las Vegas slot developed a cult following over the years and spawned a life of its own as people from across the globe visited and often queued to play it in an attempt to win the life changing $2.4 million jackpot.
According to casino staff, the Lion's share slot got played 5 times more than any other game on their casino floor and thanks to a front page article in the Wall Street Journal in February of 2014, those numbers skyrocketed as people tried to beat the outdated, 3 reel slot. The influx of gamblers wanting to try their luck even prompted MGM staff to set up an organised queuing system so that everyone could get their long awaited turn.
On Friday the 22nd of August 2014 at 11pm, New Hampshire native Walter Misco, accompanied by his wife Linda visited the casino and spent just 5 minutes at the $3 a pull slot before lining up the required 3 lion icons and walking away with the massive jackpot.
According to Misco, after reading the Wall Street Journal's article on the machine he decided to give it a try with a single $100 bill. Never could he have imagined that this machine would change his life forever. According to the Miso's, they will spend their winnings partly on their children and grandchildren's education.
Nevada law dictates that all slot machines must payout a minimum of 75% of the money they receive over their life time before they can be removed from the casino floor. Now that the Lion's Share has finally paid out its jackpot it is expected to be retired. In the past, the MGM promised players that whoever won the highly coveted jackpot would be given the machine as a gift, but whether or not the Miscos will take it home with them remains unclear. According to MGM slots executive Justin Andrews, whether or not New Hampshire laws would permit it was being investigated.