M Life Linked Accounts - What you need to know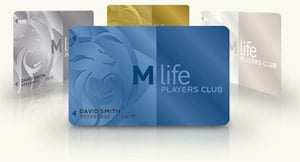 MGM Resorts International owns and operates a number of casinos and resorts across the globe including the following Las Vegas properties: Aria, Bellagio, Excalibur, Luxor, Mandalay Bay, MGM Grand, Monte Carlo, The Mirage and New York, New York hotel & casinos.
All of the above resorts and casinos are conveniently combined under one umbrella and as a casino player you can benefit from all they have to offer and earn yourself some pretty great comps and offers by applying for an M Life Players Club Card. You only have to do this once and you will then be able to use the card whenever you play at any of the above-mentioned casinos on your next visit to Las Vegas or any of MGM's other international properties.
We often get asked about linking M Life accounts and how this works by people looking to share their rewards and benefits with a friend or partner when visiting Las Vegas, and there seems to be a great deal of confusion out there as to how it all works. Here we'll discuss the various aspects of linking M Life accounts or sharing a single one so that you'll be able to determine which option is best for you.

Linking an M Life Account and what it means
As per MGM's Terms and Conditions, up to two eligible M life members living at the same address are permitted to link accounts in order to share M Life benefits. Assuming that each party in the aforementioned linkage already has an M Life card and one party is a Gold member and the other who plays substantially more at the casinos is a Platinum member, upon linking the cards, both parties will share the Platinum Tier status and the associated comps and benefits that go with that particular level.
It seems that the confusion out there comes in due to the fact that individual card holders on a linked account still receive different offers from the program, leading many to question the reasons for this, assuming that they are playing on one account, rather than a linked one.
The simple answer here is that linked accounts share tier credit status and Express Comps but corporate offers are made to individuals separately.
Playing on a Single Account
Another option that many players use is to have a single M Life player account but have multiple cards issued on it so that their partner or spouse can play on it too. This is different from card linking in that it is essentially a single account rather than two individual accounts which are linked.
Only the main Player Member will receive offers from the program and they will always have to be present to take advantage of any of these.
MLife Card Linking vs Playing on a Single Card
So which of the above options is best for you? The answer to this question depends who you are linking or sharing cards with, the nature of your relationship and whether or not you travel to Las Vegas together regularly.
If you are a co-habiting couple who always travels to Las Vegas together then having a single account in either partner/spouse's name and playing on the same card is a great option as you'll be able to play on the same card to accumulate points which count to rewards and the main member will always be there to claim them.
If however you are a couple that travels to Las Vegas separately, you will need two separate accounts that are linked. This is because individuals are not permitted to use their partner/spouse's card or any of the associated loyalty and comp benefits without him/her being present. Having linked accounts means that you can still enjoy the same shared benefits whether your partner is with you or not.
What if things go south between linked account holders?
If for any reason, the relationship sour and linked account card holders wish to have their accounts unlinked, either member may request that the link be removed from their account as long as they appear in person at the M Life station with their photo id.