Gambling Headlines
Las Vegas Casinos prepare for Skills based video gaming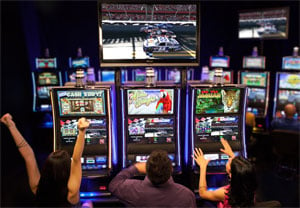 It's no secret that slot machines have evolved in recent years and that the traditional one-armed bandits have slowly been replaced by more modern slots formats and just when you think that no more can possibly done to develop these popular games, they're getting yet another makeover ‐ one that is sure to attract an entirely new generation of gamblers, or should we say gamers to Las Vegas.
In May, new legislation was signed into action by the Nevada Govener, Brian Sandoval that will change the way slots are manufactured and played forever. Under this law, new generation slot machines will be required to incorporate a skills-based element which will mean that the results will no longer be purely luck based as they have been to date.
This means that new slot machines will require players to put their skills to the test by doing something like shooting something, driving cars, or perform some kind of task that you usually would in a video game format.
Now while we've seen many casinos both brick and mortar and online, signing various licensing agreements with comic book creators and manufacturing top slots like Tomb Raider and Spiderman, with this new requirement we're sure to see Video Game producers being added to the mix. Chris Moyer, spokesperson for the American Gaming Association echoed this statement, adding that we can now imagine many of the popular video games making an appearance on the casino floors in the very near future. With this very different approach to slot machine design, a new demographic is sure to be attracted to these types of games.

Governor Sandoval agreed, stating that the legislation had been designed in order to captivate a new generation of players and that the bill allowed gaming manufacturers to use their cutting edge technology to meet the challenges arising from a younger, more technologically savvy and literate visitor demographic. He added that passing this new law was a pivotal step in ensuring the availability of new opportunities critical to industry progression and ensuring that Nevada remained at the center of global gaming innovation and development.
The Association of Gaming Equipment Manufacturers who has been an integral partner in the development of the legislation stated that skilled gamers would not be able to cash in at the casinos thanks to the fact that standard payout percentages which average around 88 percent could increase to as much as 98 percent in these new generation games. This will mean that if you are particularly skilled at shooting your targets or outracing the competition in racing games, you will be getting paid. Let's face it, that's a very attractive proposition!
As it stands, it will be up to Nevada gaming regulators to formulate the new rules governing these types of casinos games and those in the know anticipate seeing these types of games in Las Vegas Casinos by the end of the year. For many this will be yet another reason to visit Las Vegas and try their skills rather than luck at the casinos.