Gambling Headlines
Las Vegas Casino Mogul and Billionaire Kirk Kerkorian passes away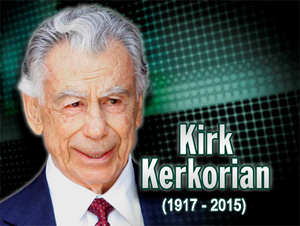 Kirk Kerkorian, a name synonymous with Las Vegas has died at the age of 98 in Beverly Hills.
This billionaire and casino mogul dropped out of school in the eighth grade and ended up building some of the city's biggest hotels, buying and selling the MGM Grand Hotel and Casino at a profit three times and once attempted to take over Chrysler. Yet in spite of all his accomplishments, the billionaire remained reserved and unpretentious, spending most of his life outside of the limelight and rarely affording interviews. He referred to himself as a boy from a small town who got lucky and shunned the glitz and glamour of Las Vegas and Hollywood life.
Despite a humble beginning as one of four children of a poor Armenian fruit grower, Kerkorian's career has been an illustrious one, making him not only a casino mogul but a billionaire. He originally made his fortune in transporting visitors to Las Vegas on Trans International Airlines, which he started by refurbishing a small twin-engine plane and flying passengers between Southern California and the growing gambling metropolis of Las Vegas, and later purchasing a small charter line.
Later he went on to build a 30 story, 1568 room International Hotel, now the Westgate Las Vegas, which eclipsed all other hotels in the city at the time, most of which only offered 250 rooms. It was hailed as world's biggest hotel when it opened its doors in the late sixties and in 1969 Elvis Presley even re-launched his performance career there.
According to Kerkorian, he had total confidence in the project and had always felt bullish about Las Vegas. He proved this again in the 1970's when opening the first MGM Grand Las Vegas, again the largest hotel in the world at that time, offering over 2000 rooms as well as 1200 seat showroom. Years later he built another MGM Grand Hotel and Casino that again claimed the "world's biggest hotel" title, this time with over 5000 rooms, and then went on to facilitate a $6.5 billion merger between the MGM Grand one of the leading Las Vegas casinos for player loyalty and comps programs and Steve Wynn's Mirage Resorts Inc.
In 2005, the renamed MGM Mirage Inc. finalized its $4.8 billion acquisition of Mandalay Resort Group. The company's combined holdings included the Bellagio, MGM Grand, Mandalay Bay Resort, Excalibur and seven other Las Vegas hotels in the vicinity.
But Kerkorian's business was not limited only to Las Vegas, acquiring and selling the Metro-Goldwyn-Mayer film studio three times, earning a profit on his investment with every sale. He also invested in the automotive industry and tried, although unsucessfully to acquire Chrysler on more than one occasion.
According to Kerkorian, regardless of what people thought, there was no great master plan in his mind. He saw every year as a big year and once reminisced that he started out simply trying to earn enough to eat, and next to purchase a car.
Kerkorian was also a philanthropist, founding The Lincy Foundation at UNLV in 1989, and then giving his assets in this to The Dream Fund at the University of California in 2011 when the Lincy Foundation closed its doors.
He was a true titan and a Las Vegas legend who will be missed by all who knew him.