Jimi Hendrix Slot Review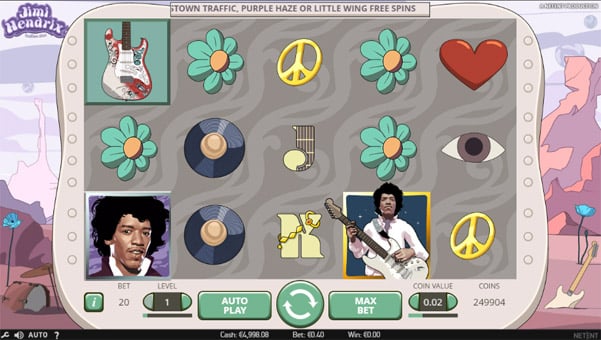 Play the Jimi Hendrix Slot Now!
To say that the bar for the second instalment of the NetEnt Rocks trilogy was high is an understatement. After all, the first release of the Guns N' Roses slot blew us away and in our minds is probably one of the best online slots of all time, making it a VERY hard act to follow but also leaving us anticipating yet another epic game in the Jimi Hendrix online slot release.
High on anticipation, at first glance we were rendered a little disappointed. Obviously it's not really fair to compare the slots to one another, but we're all human so it's rather difficult not to do. In comparison to the roar of the crowd and the rich, exciting graphics that you find in the Guns N' Roses slot, once you get past the stunning intro clip, the Jimi Hendrix slot graphics initially seem sub-par. We get that he came from the 70's - an era renowned for psychedelics, flower power and rock 'n roll, and the cartoonish graphics are fitting for that era, but we somehow expected more.
Another initial niggle about the slot is that although the music is great, it does get a little monotonous after a while - there is only so much time you can spend listening to Jimi Hendrix' "Foxy Lady" before it's time for a change, and although there are a variety of Jimi Hendrix hit songs included in the slot, the surprising thing is that you don't have control over them like you do in the Guns N' Roses slot where you could choose from a playlist of their top hits.
Knowing that first impressions can often be deceiving in the world of online slots we proceeded to play the game which is a 5 reel, 20 payline slo with coin sizes ranging from £0.02 to £200 per spin, making it suitable for both recreational players and high rollers alike and found that there is WAY MORE to this slot than one initially thinks...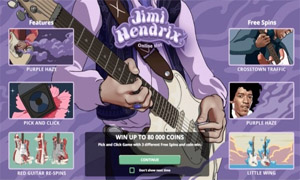 The Jimi Hendrix Slot offers 6 outstanding
Bonus Features
Not only do the seemingly simple graphics spring to life quite unexpectedly, but what is truly outstanding about this game is the number of bonus features it offers. Six to be exact, each featuring better quality graphics depicting the rock legend Jimi Hendrix playing the guitar that pops up at regular intervals during the game.
And this is where the game truly comes into its own and becomes well worth playing! It's also where you get to hear a great deal more of Hendrix's legendary tracks, changing things up regularly and breaking the aforementioned monotony in a fun and refreshing way. 10 points for the power of surprise!
The features are as follows:
Red Guitar Spin
Hit four red guitars simultaneously and this re-spin feature will be activated and if you are lucky and more red guitar symbols appear on the reels during the re-spin the feature will continue to re-activate awarding you some decent wins along the way.
Purple Haze Feature
Named after the iconic song that launched Hendrix' career, the Purple Haze feature is set to the song of the same name. When the Purple Haze symbol appears on line 1 the other basic symbols (10, J, Q, K, A) turn wild and in addition to the Wild Purple haze help you to accumulate added wins.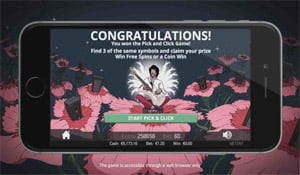 Jimi Hendrix Pick 'n Click bonus on mobile
Pick 'n Click
This is the slot's most desirable feature, it offers you the opportunity to win one of four prizes! It is activated when three or more of the Jimi Hendrix angel symbols appear across the reels. You will then be required to pick a loud speaker and click on it to reveal your prize. For each of these features, a Jimi Hendrix track with the same name will play:
Coin Win: In this pick X of Y feature you'll select three coin symbols to reveal the size of your total coin win. There is solid potential for great rewards with 8x and 30x random multipliers that can be added to your original wager to earn you up to £6000!
Crosstown Traffic BonusFeature: 3 orange haze symbols activate Six Free Spins which feature up to two additional wild reels that change position with every spin for even more rewards.
Purple Haze Bonus Feature: This is triggered when 3 purple haze symbols appear earning you between six and twelve Free spins and as you use these, the Jimi Hendrix Purple haze symbol will be added to the reels to dramatically increase your winning potential
Little Wing Bonus Feature: 3 blue haze symbols will earn you between six and twelve free spins during which three to five overlay wilds will randomly appear over the reels to award you with extra coin prizes.
The verdict? While the graphics may not be what we originally expected and, the game play far outweighs this. Packed with so many bonus features and opportunities to win, this slot is action packed and fun to play. It's a medium variance slot with potential for huge rewards and as such will suit most players. Don't let first impressions fool you, it's definitely an exception to the rule and one not to be missed.