Gambling & Casino Headlines
NetEnt Unveils new slots in their NetEnt Rocks Trilogy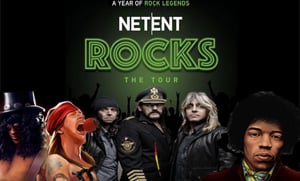 Play now at Betsafe Casino
NetEnt recently launched one of the most outstanding online slots we've seen in a long time with the Guns N' Roses slot release, and now it seems that they are looking to continue to rock their fans worlds.
Earlier this week in London, the software provider unveiled the highly anticipated forthcoming instalments in the "NetEnt Rocks" trilogy at ICE Totally Gaming 2016 and rock fans can look forward to not one but two imminent new games releases..the first, a brand new slot made in honour of the 60's rock icon Jimi Hendrix (set to launch on the 21st of April 2016) and the final instalment, the Motörhead Slot (due for release on the 22nd of September 2016).
Hendrix is widely regarded as one of the most influential artists of all time, rising to popularity in the late 60's with albums like Axis: Bold as Love, Electric Ladyland and Are you Experienced.
As with the Guns N' Roses slot release, in partnership with Experience Hendrix LLC, the NetEnt developers have put a great deal of time and effort into ensuring that their latest offering honours the legend that is Hendrix. It will also feature a soundtrack for players to choose from which includes hits like Purple Haze, Little Wing, Crosstown Traffic and Purple Haze. The 3D graphics are inspired by the 60's and the game will of course feature scenes from the Hendrix concerts as well as animated content.
In a statement, NetEnt's CPO Simon Hammon said that Jimi Hendrix is one of the greatest rock stars that ever lived and that it was not only a huge responsibility but an honour to create a branded slot in the Hendrix image. He added that NetEnt had worked closely with the Hendrix family and their companies Experience Hendrix LLC and Authentic Hendrix LLC to manufacture a game that would contribute to making the NetEnt Rocks series an unforgettable one.
Janle L. Hendrix, President & CEO of Experience Hendrix LLC echoed these sentiments, adding that the family was very selective in whom they partnered with and that NetEnt understood this, and as such the family was excited to work with them.
While both the Jimi Hendrix and Motörhead slots are still in development, with the former being next in line for release and the Motorhead slot coming later this year (watch this space for more details as they emerge) there is a lot for rock and slots fans to look forward to and in the meantime, the Guns N' Roses slot will rock your world at Betsafe Casino.