House Edge – Land based vs. Online Casino Games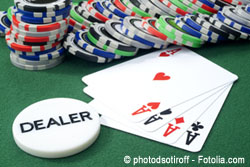 When playing a new casino game one of the first things most people want to know is what the house edge is. When playing online, this is generally very easy information to obtain, but when playing at a land based casino it can be very difficult. Some games like European Roulette and Baccarat have a well-established house advantage, namely 2.70% and 1.06% respectively, but others are somewhat misleading and will have you believing that you are really up against a much lower house edge than you really are.
Here we take at a few popular casino games that often mislead players when it comes to perceived house advantages when played at land based casinos. This is yet another reason why you should rather stick to playing online!
Blackjack
Blackjack is a casino game with the potential for the lowering the house advantage if you play according to sound basic strategy both online and at land based casinos. Card counting, which can only be done at land based establishments further lowers the house edge. Many blackjack pro's will tell you that you can achieve a 0.5% house edge in most games but land based casinos have started to be wise to these pros and many have pushed their blackjack edge up to 1.5% and higher.
Many brick and mortar casino venues, especially those on the Vegas Strip offer 6:5 payouts for natural blackjack which automatically increases the house edge by 1.4%. Depending on the blackjack game variation that you are playing, the rules may permit the dealers to hit on soft 17 but only allow you as a player to double down on 10 and 11 with no option to re-split.
As a novice player you may overlook these rules but you shouldn't, it is easy to identify what is allowed by reading the rules printed on the blackjack table and if a dealer is permitted to hit/stand on a soft 17 you should be avoiding these games altogether.
Video Poker
Video Poker is one of the most popular casino games due to the fact that it has one of the lower house edges of all games. The trick to exploiting the low house advantages however are to find full-pay machines. A quick glance at an online casino game's paytable will show you which games are full pay and which aren't. In a brick and mortar casino this may require some leg work. Be on the lookout for 9:6 Jacks or Better games as these offer 99.54% payouts while the 9:5 Jacks or Better games only offer a 98.45% payout. You'll be amazed at what a difference this small percentage variance can make to your pocket!
Always ensure that you familiarize yourself with the paytables for a game as these can differ from one casino to the next, even on the same game.

Slots
While information on online slot machine payouts is readily available and while certain requirements have to be fulfilled in order to obtain the maximum payouts, for example betting a certain amount per spin or playing a required number of paylines, you are generally given a good indication of what is achievable by most slots reviews.
In a land based casino setting however it is way more difficult to establish what the actual house edge is on slots. Occasionally casinos will erect vague signs that tote "Up to 98% payout rates" but you never know which machine in their slots line-up actually pays out at 98%.
Keno
Keno is another game of chance that presents a challenge when determining the house advantage when you're not playing it online. Odds on this game differ from one land based casino to another and studies have shown that edges can differ from anything between 5% and 50% depending on where you play.
On the upper scale the edges on this game are already very high and if you haven't done your research you can really be playing a suckers game if you happen to play at a casino that is working with the higher end of the scale on house edges.
Poker
It may seem bizarre to list Poker in an article on casino games with a house edge because Poker doesn't have one. Instead the casino or poker room takes a percentage of the pot, usually 5% in standard games and 10% in tournaments to cover the costs of their tables.
In poker you compete against other players instead of the house so if you are skilled it can be very profitable in the long term. However, if you are a novice and you find yourself playing against seasoned and skilled opponents the odds in their favour can be as high as 50%, making this game as bad of an option as Keno.
So if you're going to play poker, study strategy and practice your moves for free in free play mode at online casinos or poker rooms until you are ready for real money games. This will not only hone your skills but save you a great deal of money.