Playing High Limit Table Games on a Budget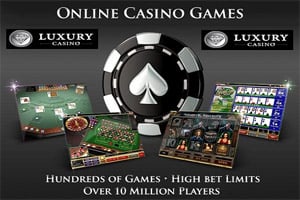 Play high limit casino games at Luxury Casino
If you've decided to enter the high roller leagues or simply just spend a session or two at the high limit tables at the casino there are a few things you should know and do in advance in order to ensure that you practice proper bankroll management and have a completely enjoyable time.
Here we will look at setting your budget and tips for playing the various high stakes table games including blackjack, craps and roulette.
Budget and Bankroll Management
Before you leave the house or login to your favourite online or mobile casino it is advisable to set a budget for your gaming session so that you know how much you can spent. Never make this decision while you're already playing and if you've decided that $500 is your limit, then stick to that regardless of whether the table you're playing at has a $25 limit or not.
When it comes to high stakes games, the higher the table limit, the fewer "units" you will have to work with. For example if you have $500 and the table limit is $1 you'll have 500 units and the variance in game play will not see you broke and out of action too quickly. But with $500 and a $25 table limit, you'll have just 20 units to play with so you'll need to manage your bankroll and betting decisions wisely.
High Limit Blackjack
If you're going to play high limit blackjack games with $500 (or a 20 unit bankroll) then you'll need to do so according to sound basic blackjack strategy. This will be the only way to lower the house edge to less than the standard 1%.
It is important to learn strategy before the game but if you need a strategy card you'll find them online and often at the casinos themselves. If you don't know basic blackjack strategy by heart, keep your game play simple and the following rules in mind:
Stick to wagering the minimum
Hit on any hand until you reach a total value of 12, stand if the dealer is showing cards valued at anything from 2 to 6.
If the dealer is holding an upcard valued at seven to an Ace, keep hitting until you reach at least 17
Always split Aces and Eights
Split pairs of two, three, four, six and seven when the dealer has an upcard valued anywhere from two to six.
If the dealer's upcard is valued between two and eight, double down if you have a ten
If the dealer's upcard is valued between two and nine and you're holding 11, double down
These few guidelines will not give you perfect blackjack strategy play but they will get you close enough to it to lower the variance within the game. Some professional plays only afford the player a tiny fraction of a percentage advantage but also require larger risk which you can't do with a smaller budget.
When playing high stakes games on a budget avoid any side bet options as the house edge on these is too high and any additional wagers of this sort will increase the game variance. It is important to stick to your minimum bet at the outset.
One you have increased your bankroll by at least 5 units, giving you 25 units you can then increase the size of your bet. Why wait? Because if you have 20 units on your initial bet and win the first hand, raising your bet from $25 to $50 and the hand plays out in such a way that you need to split cards or double down, this will increase your bet size with every action and before you know it you could be down for in excess of $200 on a single hand. That's quite a chunk out of your initial $500 bankroll and it has the potential to cut your game play short quickly. So rather wait until you've increased your bankroll before deciding to up your bet.
High limit Craps Games
Dealing with high limits at the craps table may be easier than in blackjack but it still warrants caution due to the sheer number of bets available in the game and if you're playing $25 wagers on a $500 bankroll you'll need to know the odds on each bet and be prudent when playing.
Hardways and proposition bets offer high payouts and make the game far more exciting so are usually the favoured wagers amongst players new to the game. The truth about these bets is that they hit infrequently which means that they have high variance. If you're playing craps on a budget you can't afford to make these types of bets at the start.
It is best to concentrate on the Pass and Don't Pass line bets as these carry the lowest house advantage. You may also consider the Come or Don't Come wagers but be sure to avoid the 10x odds so as to get all of your chips out on a single number.
When betting the Pass line, if you're going to take odds, only take single odds and then wager on the Come bet as your second option, also taking single odds. In doing so you'll have four bets of your 20 unit bankroll on the table. That's more than enough to start and you should always try to keep your total bets on the table below 20 percent of your total budget, although 10 percent would be wiser, yet less entertaining. As you build up your bankroll you will have room to play more of the wagers you want to play.
Roulette
Roulette is a popular casino game but from the outset you need to choose your variant wisely. Always look for European Roulette tables featuring a single zero on the wheel rather than American roulette games which feature a zero and double zero as this increases the house edge quite considerably.
In general Roulette carries a higher house edge than either blackjack or craps and on certain bets like betting on either red or black, that edge increases to four times higher than wagers in the other games.
Yet if it's your game of choice and you're playing high limit games on a budget, you'll want to keep your wagers to a single unit where possible. Look for games where you can get $5 colour chips so that you get at least 100 chips to play with on your $500 budget. You'll probably still have to bet between three and five chips per spin, so you'll have to hope that lady luck is on your side from the start.
Other Table Games
If you're considering any other table games on your restricted budget, Baccarat should be a game you consider as it carries a relatively low house edge. The trick here is to avoid the Tie bet as it carries a considerable house edge and increases the variance of the game considerably, so always only bet on the Banker or Player.
Some of the other popular table games like Let it Ride or Three Card Poker will have a three to four unit requirement per hand. The house advantage and variance in these games is considerable and coping with high table limits in addition to these make them tough to succeed at. You may get lucky and win quickly but more likely you'll play a few hands, lose them all and be broke.