Gambling Stories

The man who played 115 hours of poker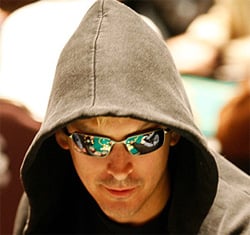 In an outstanding display of endurance, poker player Phil Laak attempted to set a Guinness World Record for the longest continuous Poker play with proceeds being donated to the charity organisation, Camp Sunshine.
Laak originally planned to remain at the table at the Bellagio for 80 hours but he far exceeded his goal by playing for a whopping 115 hours. This meant that almost a day and half after reaching his target of 80 hours, Laak, also known as the "Unabomber", along with his girlfriend Jennifer Tilly cashed in his chips.
Surprisingly, Laak participated in the poker marathon without using stimulants of any kind, including coffee and energy drinks. Instead he opted to work with a nutritionist who ensured that he was healthy, well fed and remained alert for the duration of the challenge.
Laak also credits his success to his fitness levels which he displayed during the competition with a display of 30 push-ups for which he earned a $1000 donation to Camp Sunshine. With only 5 minute breaks allowed each hour (which he was able to accumulate if they weren't used), he seemed to only suffer from mild discomfort. This was truly an amazing feat and one that ensured that his name would go down in gambling history for years to come.