Gambling Stories

Grandfather wins £125,000 betting on Grandson's future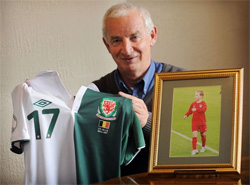 In 2000 Peter Edwards walked into one of William Hill's betting shops in Wrexham and bet £50 that his grandson, Harry Wilson who was a toddler at the time, would one day play football for Wales. William Hill accepted the bet at odds of 2,500 to 1.
In 2013, thirteen years after the bet was made, 16 year old Liverpool academy star Harry Wilson ran onto the field as a substitute in the Wales team, earning his grandfather a whopping £125,000 win.
The teenager also made a mark in the record books for himself during Wales' World Cup qualifier match against the Belgian team, becoming the youngest player ever to represent Wales in football history.
One life changing moment led to another with Edwards making the decision to retire one year early from his work as an electrical contractor which saw him working away from home from the majority of the year, spending only a single week-end per fortnight at home with his wife Dorothy.
Edwards had reportedly told his manager that he would retire if Harry played in the game that he was on the bench for and when he was called in as a substitute and Edwards realized that he had won his bet, his retirement became official.
According to Edwards, he placed his original wager on a whim after observing just how much Harry enjoyed playing football as a toddler. He added that even as a baby Harry had chased a ball around the room while crawling and he always hoped that his bet would be fulfilled.
When Harry was enrolled in the Liverpool Football academy and proved to be a talented player, Edwards returned to William Hill with the hope of placing a second bet on the youngster's future but Harry was already 12 years old then and the sports book turned him down due to the fact that Edwards had already placed a substantial bet with them.
They did however add that Harry could play for England to the original bet as a gesture of goodwill. This meant that whether Harry played for Wales or England which he was eligible for thanks to his grandmother being born in Chester, the payout would be safe.
His grandfather's win will benefit Harry as his Edwards has committed to helping him out with travelling costs to and from the Liverpool football academy as well as ensuring that Harry would get his share of the wins.
While some say that gambling is all luck, in this case, it seems that destiny had its own part to play. Either way, this is one amazing gambling story.