Gambling Stories
Michael Jordan's Wildest Gambling Stories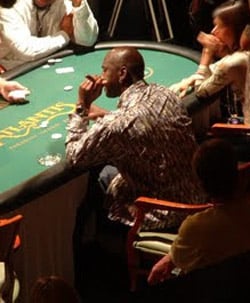 People from all walks of life love to gamble and given the money that they earn, it's not surprising that celebrities and high profile athletes have some very amazing gambling tales to tell. Out of all athletes however, basketball legend Michael Jordan probably has some of the wildest stories of all which have made him as much of a pro in the gambling world as he is on the court. Let's take a look at some of these now.
Who needs sleep when you're in Barcelona, even if it is for the Olympics?
In 1992 Jordan was part of Team USA's Olympic Basketball team in Barcelona. The team unleashed its prowess on whomever they played beating most of their opponents by an average of 44 point per game. This kind of advantage meant that Jordan and his teammates didn't have to only have their head in one game but also spent a great deal of time playing poker. Jordan along with Magic Johnson, Scottie Pippen and Charles Barkley reportedly spend most nights playing poker until the early hours of each morning for days in a row. On an extreme binge Jordan played until 6am, slept for just an hour and then went about preparing for his afternoon game. All in all it didn't do anyone any harm with the USA crushing Croatia in the final 117 points to 85.
Making Prop bets in the airport luggage line
One would think that after an entire Olympic tournament spent playing poker Jordan would have had his fill of gambling but that was not the case. On a return flight Jordan once again showed his penchant for making prop bets on just about anything while waiting for his luggage at the Portland airport with his teammates by pulling out $100 and betting them that his bags would come out first. His teammates had obviously caught betting fever because 9 of them accepted the bet, giving him 9:1 odds. Of course there was both shock and awe as Jordan's bags emerged ahead of everyone else's on the conveyor.
Sound too good to be true? It was! Jordan had in fact bribed a baggage handler before the time to ensure that he won, a fact that was probably only revealed once everyone had paid up.
Jordan takes Atlantic City by storm during NBA Playoffs
If you know anything about basketball at all, you'll know that the NBA Playoffs are some of the most highly contested games of the entire season with 16 teams vying for the championship title. This means that during these playoffs most players are highly focused on one thing and one thing only...playing basketball. We say most because back in 1993 Michael Jordan had something else on his mind and ended up playing blackjack at Bally's Casino in Atlantic City until 2:30am before heading back to New York to sleep before his big game. He took a lot of heat for that decision, especially because his team lost in the next day's game. They did however turn it around by winning all of their subsequent games and earning their third NBA championship title in a row.
Jordan takes a $5 million hit at a Las Vegas Casino
According to Cincinnati Bengals cornerback Adam "Pacman" Jones, Michael Jordan obsessively played craps at a Las Vegas Casino during the 2007 NBA All-Star weekend. According to Jones, Jordon was so into his game that he wouldn't let anyone else roll the dice but that was obviously not the best idea as he reportedly lost over $5 million that night. What makes the story even more interesting is that Jones claims to have won $1 million playing craps before Jordan took over. He later took $50k of that and went to a strip club where he and his friends got into a fight which led to a shooting and saw him suspended for the rest of the season that year but at least he can tell a great Michael Jordan story.
Jordan's $1.25 million Golf debt inspires a book
You know you're famous when someone can write a best-selling book about playing golf with you. Jordan was former San Diego Sports Arena manager Richard Esquinas muse for a book entitled Michael & Me: Our Gambling Addiction... My Cry for Help! According to his memoirs, Esquinas was a regular golfing buddy of Jordan's and during one 10 day golf tournament Jordan lost $1.25 million in bets on matches to him, but Jordan then made a comeback lowering the gambling debt to $902k in subsequent games. Jordan was however apparently very slot to pay the debt as he didn't want his wife to find out about it and so Esquinas reduced the amount to $300k which he finally received.
These are just a few stand out stories in the gambling life and time of Michael Jordan and we're sure we'll be adding to this section often!