Gambling Stories

The babysitter who went from rags to riches on her first Vegas visit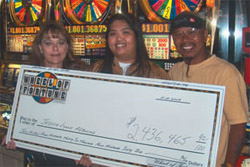 Back in 2008, babysitter Jessica Agbunag went on a trip to Las Vegas with her family to honour the memory of her grandmother who had been an avid slots fan.
In the short time that the family stayed in Vegas, Jessica dabbled a bit on the Wheel of Fortune machines which paid out two small winning amounts at the same casino over the week that she was there and gave her a generous spending and entertainment allowance for the duration of her stay.
Later she decided to play $16 on the Mega-Jackpot slot machine at the California Hotel and Casino and won a whopping $2.4 million which took her from rags to riches in a just a single spin. Not bad for a first trip to Las Vegas!
If you don't have the money to travel to Las Vegas to change your life, don't worry! Some the world's top slots are available online and are linked to millions worth of jackpots, you could be the next major winner from the comfort of your own home!