Gambling Stories

The man who bet everything he owned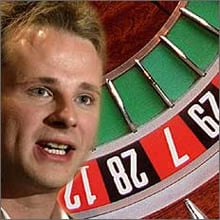 If you follow the gambling news headlines then you've probably heard of Ashley Revell, the professional British Gambler who sold literally everything he owned (including all of his clothes), travelled to Las Vegas and bet $135,300 on Red at a roulette table at the Plaza Hotel. If you ever visit this hotel you'll be able to see the exact table that Ashley played at (look for the sign).
The event was attended by interested onlookers as well as numerous members of the news media who all gathered around in anticipation. As Revell stepped up to the table the tension in the room was tangible.
After a deep breath, with a single spin Revell doubled his money, walking away from the table with $270,000 after tipping the dealer $600 and walking away from the table. Guess he wasn't willing to take that kind of a chance again on the same day.
Revell then used his winnings to open up his very own online poker company, known as Poker UTD. His story has travelled far and wide with Simon Cowell even drawing inspiration from it by producing a new game show entitled "Red or Black".