Gambling Stories
Patrick Barnes' Weight-loss Bet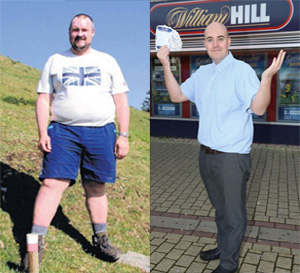 If you're serious about sticking to your New Year's Resolutions and weight loss goals this year but feel that you need a little extra motivation, you may want to take a tip from Patrick Barnes. The Birmingham resident who tipped the scales at just over 290 pounds (133Kg's) in January of 2014 bet that he's lose 32 pounds by the end of the year.
William Hill is renowned for taking on weight-loss bets and generally accepts around 100 of these each year so it was no surprise that they gladly accepted Patrick's wager, and so the challenge began!
According to Barnes, after his marriage and honeymoon in the fabulous gambling city of Las Vegas, he rapidly began to pile on the pounds. Something had to be done and so in order to sustain his motivation to lose the weight, he placed a £100 wager that he could reach his goal before starting his new eating plan. This idea was inspired by a newspaper story on someone else that had done the same thing and won.
Of course, Patrick knew that he would have to exercise and eat healthy in order to drop the pounds but found that playing darts was a secret weapon in his weight loss arsenal due to the fact that it kept him moving during the evenings when he would usually be sedentary. He also found that the game kept his mind off food which helped him to reduce his caloric intake.
Just one year later, Patrick achieved his goal which put him in the top 10 all-time weight shedders to place wagers with William Hill. According to William Hill spokesperson Rupert Adams, the William Hill team were astonished that Patrick managed to achieve his goal after giving him 25:1 odds but were exceptionally happy that he did. They added that it was a great feat and he deserved every cent of his £2500 winnings.
Another great way to lose weight is to distract yourself and keep your mind off food is to play great casino games at William Hill Casino Club.