Gambling Stories
Twice in a lifetime luck - Elmer Sherwin the double Megabucks jackpot winner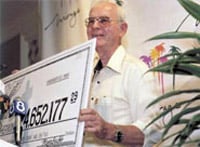 It's something too unusual to even imagine putting odds on - the chance of hitting the Megabucks Jackpot once in a lifetime is slim enough, but twice? It's only been done once in history by an American man named Elmer Sherwin.
In 1989 Sherwin was one of The Mirage Las Vegas' first players through the door but it wasn't just any Las Vegas trip, it was one that would change his life forever. Just 10 hours after the casino opened Elmer Sherwin hit the $4.6 million Megabucks Jackpot.
At the time of the win, Sherwin and his wife at the time were travelling the country living out of their mobile home and had stopped in Las Vegas to visit family. For seven weeks he had spent $100 per week trying his luck on Megabucks, but his luck changed the night he attended the Mirage's grand opening. He gambled his usual $100 without winning but instead of stopping like he usually did, he asked his wife to give him a $20 and the rest is history.
A humble man and child of the depression, after begin accommodated in the Penthouse suite by casino mogul Steve Wynn, Sherwin packed up his things and went back to his mobile home and Ohio. His first "big splurge" was on a recliner chair and 6 months later he bought himself a car, but not a sports car as one might expect, but rather a reasonably priced Dodge Colt.
He lived off the interest from his wins, travelling from time to time and shared a portion of his winnings with family members. But that is not where his story ends.
He later moved to Las Vegas and continued to enjoy gambling from time to time. Sixteen years after his momentous $4.6 million win, at the age of 92, lady luck favoured Sherwin again, this time rewarding him with $21 million on the Megabucks Slot once again, this time at the Cannery Casino & Hotel in North Las Vegas.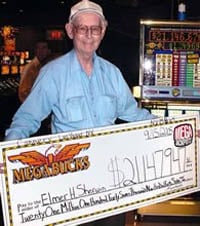 Casino staff recall the moment with much fondness, commenting on what a lovely, humble person Sherwin was and how during the 5 hour verification process he was offered dinner but he refused, later asking simply for a hot dog when casino staff would no longer take no for an answer. He elected to take the interval payments rather than the lump sum and continued to live his life.
After the win the Las Vegas casino offered Sherwin a number of comps and free offers which he refused. He didn't want a free ride, just to get out of the house, play a few hands of video poker or spins on Mega Bucks and return home.
Steve Wynn reportedly invited Sherwin to spend the night at the Wynn Las Vegas and the big winner, still a simple, humble man brought along his own can of Cheese Whizz and crackers.
Sherwin continued to play slots until he passed away at the age of 93. Looking back on past interviews his words struck us as quite profound - "I have been lucky all my life. When I go in to play a machine I know people sit down and expect to lose. I go in and expect to win...and I win!" It seems that his humble, pleasant nature may be to thank for some of that luck, and later he was rewarded for his beliefs in cold hard cash.
What an amazing gambling story and lesson to us all...if you hit the big one, remain humble and always remember who you are and where you came from.