The Gambling Myths Casinos want you to believe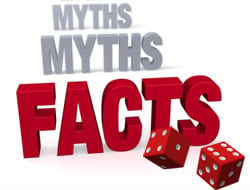 While casinos don't mind that skilled players play at their venues because, unless they are card counters or advantage players, there is always a house edge to contend with but they prefer it when uneducated players play at their venues. This is due to the fact that inexperienced players are not aware of proper game play strategies and often believe bankroll damaging gambling myths .
There are many gambling related myths when it comes to playing casino games and as long as these myths are propagated and people continue to believe them, casinos' profits will keep rising so casinos often play a part in promoting these false tales.
Make sure that you are aware of these common gambling myths so that you don't get caught in these traps.
Myth1: Penny Slots are Cheap
The name " Penny Slots " will have you believe that these are cheap slot machines to play, after all, they only cost a penny per spin…or do they? They are advertised as such to attract players looking for a cost effective bit of slots fun but the reality is that they are not as cheap as casinos would have you believe.
If you want to achieve the top payouts on wins then you have to wager the maximum amounts which range from $1 to $5. If you opt to just bet a penny per spin then you'll lose money on the average thanks to the greater house advantage, so you don't really get a better deal with penny slots than you do on any other slot game. Something to keep in mind next time you play.

Myth 2: Single Deck Blackjack is the best variation
It is common knowledge that when playing a game of blackjack the casino's house advantage decreases when the number of decks used in a shoe decreases, so players automatically believe that single deck blackjack is the obvious choice to gain a long term advantage.
The problem is that in this blackjack game variant is that the advantage is offset by the natural blackjack payouts offered which drop from the usual 3:2 in multiple deck games to just 6:5 in single deck blackjack. This gives the house a 1.4% increase in edge, which means that you are better off playing 6 deck games with higher payout rates instead.
Myth 3: Slot machine bonus games let you win Free Money
Online slots have always been popular but their popularity has soared since the introduction of bonus rounds and features within these games. Bonus rounds are triggered by obtaining a certain set of symbols on the reels and allow you to enjoy an exciting "side game" which generally requires you to pick X of Y to reveal a prize. Many people have been led to believe that the money that you win in these games is " free money " but this is definitely not the case because the prizes are factored into the slot's overall payout percentage. So if a particular slot offers a 96% payout rate then the bonus round will not raise this percentage.
Myth 4: Video Poker is easy to win at if you're skilled
Video poker is to a degree, what is termed a skill based game. This means that you can beat the odds if you play skilfully. While games like Deuces Wild with a 100.8% payout rate, Double Bonus with a 100.2% payout ratio and Double Double Bonus Video Poker with a 100.1% return to skilled players over the long term do exist, these payout rates are generally only offered in full play games which are difficult to find even when you are playing online. In general, the best video poker games will be full pay Jacks or Better which offers a 99.54% payback. So even if you're a skilled player there is still a slight house edge unless you are skilled enough to find the previously mentioned video poker variations.
Myth 5: Gambling Systems and Tracking Results are effective
While casinos don't promote the use of gambling systems outright, they will welcome you to use them and that is because no betting system will enable a player to beat the house edge in the long term. Risky progressive systems like the Martingale system only work for players with considerable bankrolls, but for most players it just means throwing good money after bad as you are required to double your bets after every loss.
When tracking results, casinos will often show results for the last 10 to 20 spins on a roulette wheel displayed on an electronic board. The idea is that players will be able to pick up on patterns and determine which numbers are due for a win. This is really pointless as every spin is independent and tracking results will not lower the house edge in the least, but still the boards remain.
Being aware of and understanding these casino myths will assist you to move past them, manage your bankroll correctly and improve your chances of winning.