Bridesmaids Online Slot Review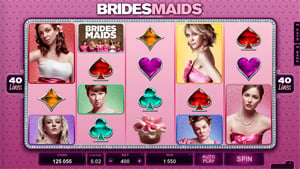 Bridesmaids Slot live at Betway Casino
For months we've followed the hype around Microgaming's latest online slot release Bridesmaids and after much anticipation, the game when live at Microgaming powered online casinos like Betway casino this month. Of course we headed right on over to play the game and see if it really did live up to the expectations that had been created.
Based on the 2011 Universal Studios blockbuster Bridesmaids movie which grossed almost $300 million worldwide and featured big names like Kristen Wiig and Melissa McCarthy, the 5x4 reel, 40 line slot had all of the makings of another hit.
Unfortunately however we feel that it fell far short of the expectations that the build up to the launch had created in the months prior to its release. The slot is basically an exact copy of IGT's Sex and the City slot, and while the graphics are superb, the actual game play is rather boring and when you do manage to hit the feature (which take quite a while) where you can spin the wheel to win one of 15 prizes, it inevitably lands on the lowest of them all ‐ the 4x multiplier, which is very frustrating when you've waited so long for the bonus game to be activated.
One would also have expected the soundtrack to be lively and upbeat, inspiring excitement and laughter, but alas, no. The sounds are generic and on the mobile version of the game the bonus feature is activated in silence. Should you win, the effects are pretty lacklustre and you're left wondering if you actually did win, because it doesn't quite sound like it. The mobile version of the game also lacks the movie clips that the desktop version has, so in this instance the online casino version is superior in a number of ways, which is a pity.
The one redeeming feature that we could identify was that the free spins with the stacked bridesmaids is pretty good, but again you'll only hit this once in a blue moon, so be prepared. That said though, if you can wait long enough the returns on this slot are not too bad, although you do have to offset them against the amount of time you're going to have to play for to figure out if it's all really work it.
If you're going to play this slot anyway, simply because you loved the movie and want to see what it's all about for yourself, remember that it's a medium volatility slot and if you want to see the bonus features you're going to have to play for a good long while ‐ so adjust your coin size according and manage your bankroll accordingly.