Gambling & Casino Headlines
Is Microgaming becoming lazy with game development?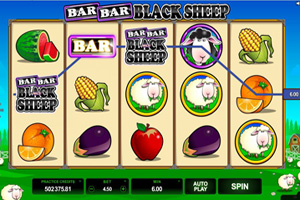 Lazy or Innovative? Decide for yourself...
Play the new Bar Bar Black Sheep Slot
If you saw "Bar Bar Black Sheep" on Microgaming's list of "New Games" this month you may have wondered if the software giant has become lazy when it comes to games development. After all, Bar Bar Black Sheep is a classic single line slot that was released by the company in the mid 2000's and now they are trying to sell it off as a "new game".
It's not the first time we've seen this being done and it probably won't be the last, especially on popular slots titles like Bar Bar Black Sheep. And while it may not seem like the company is being very innovative, a look at the new 5x 3 reel, 15 payline slot shows that they really have re-invented the game without losing the essence and appeal of the original.
The new 5 reel Bar Bar Black Sheep slot not only features a host of new graphics and fruits from the farm, but also a variety of new features including wilds, scatters, re-triggering free spins with a 3x multiplier and a unique bonus game where you can win up to 999 times your line bet and a jackpot of up to 95,000 coins.
So why the update of a classic game? Purists will probably disagree, but the majority of slots players want more from their slots play than ever before. With all of the features we've gotten used to over the years, classic reels slots are giving way to action-packed video slot games that offer more excitement and entertainment value. So why not take a great games title and adapt it to what players want?
Yes it may be selling out a little in the fact that the game is not completely unique, but it makes business sense, and at the end of the day, that's what casinos are looking for...ways to increase business and profits.
So which version of Bar Bar Black Sheep should you be playing? Find out here.